Joining hands for a cleanliness drive at Nanded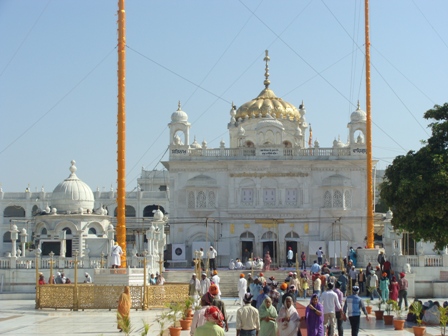 The city visit under Green Pilgrimage Network (GPN) – India Chapter, which is part of the larger GPN programme developed by the Alliance of Religions and Conservations (ARC), WWF and ICLEI, was conducted in Hazur Sahib, Nanded on 17th and 18th December by ICLEI South Asia along with Nanded Takhat (Gurudwara) Board and EcoSikh, an international ecology organization which is proactively spearheading the movement. The GPN project aims to transform our pilgrim cities and places into a green, sustainable model in keeping with people's faith in the place of pilgrimage. Hazur Sahib, situated in Nanded on the banks of river Godavari, is considered one of the five most important spiritual sites for Sikhs. Nanded receives over 25,000 pilgrims on an average day to visit historical Sikh religious sites, which puts a lot of pressure on all the environment resources like water, air, energy and transport.
A series of meetings were conducted with Takhat (Gurudwara) Management Board, represented by officers such as deputy commissioner, engineers of the Nanded Waghala City Municipal Corporation, Collector of Nanded District etc. The key challenges the city is facing are water scarcity, transportation/traffic management problem, lack of sustainable Solid Waste Management (SWM) and of Energy Efficiency/ Renewable Energy measures. The overall aim of the visit was to assess the present environmental condition of Nanded city and the additional stress the city is facing due to the huge pilgrimage.
"Power and water shortages are our major concerns but the cleaning of the river Godavari, which is highly polluted with city sewage, remains our top priority", said Superintendent of Takhat (Gurudwara) Management Board, Mr. Ranjit Singh Chiragia. The City and Takhat (Gurudwara) Management Board have expressed their interest towards ICLEI South Asia to frame the city into a more environmental and sustainable one by undertaking more energy efficiency/ renewable energy initiatives, introducing a sustainable SWM practice and a conducive traffic management plan.
Further information about the Nanded cleanliness drive can also be found below:
http://www.hindustantimes.com/news-feed/chunk-ht-ui-punjabsectionpage-latestnews/ecosikh-to-hold-cleanliness-drive-near-hazur-sahib-nanded/article1-1167321.aspx