Kochi Takes Part in One Planet Cities Pedalathon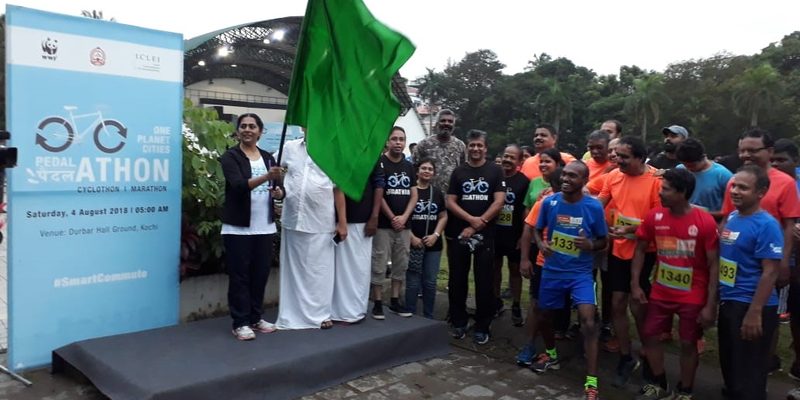 ICLEI South Asia along with World Wide Fund for Nature (WWF)-India, with support from Kochi Municipal Corporation, organised a public event called 'One Planet Cities Pedalathon' on the 4th of August in Kochi.
The objective of the event, under WWF funded One Planet City Challenge (OPCC) project, was to raise awareness and gather support from the citizens for adopting smarter and greener choices of commute.
In the presence of various chairpersons and councilors of Kochi Municipal Corporation, Hon'ble Mayor Ms. Soumini Jain flagged off the event. Over 300 people participated in the event which included a 20 Kilometer cyclothon and 10 kilometer marathon within the city. The WWF India and ICLEI South Asia teams also participated in the same.
Speaking on the occasion, Ms. Jain said global warming is a serious threat that must be tackled immediately.
"We must volunteer for a change, be the change, as a change is always initiated on a small scale. A minor change in lifestyle and day-to-day activities can show significant results in the long term. Simple steps like riding a bicycle to work, or taking public transport for commute can be very effective. Further, by using our natural resources judiciously, we can bring in a great change not just to the people but also the environment," she said.
During the felicitation, Ms. Suchismita Mukhopadhyay, Associate Director, Climate Change and Energy Programme, WWF-India, said OPCC had been engaging citizens on solutions related to energy conservation, energy efficiency and renewable energy over the years. Sustainable mobility is particularly essential for a rapidly growing city such as Kochi.
It is important for citizens to make smart mobility choices in their daily lives. Simple individual lifestyle choices such as taking public transport, cycling and walking for shorter trips or even car-pooling could help decongest roads, reduce pollution and address climate change, she said.
The winners of the events were:
Cyclathon

1st : Mr. Paul P I
2nd : Mr.Ganesh
3rd : Mr. Manesh G Pai
Marathon

1st : Mr. Mahesh P S
2nd : Mr. Charles Antony P S
3rd : Mr. Aji Kumar
In addition to this, a stakeholder consultation workshop was also organised by the WWF India and ICLEI South Asia with support from the Kochi Municipal Corporation on the 3rd of August.
The workshop, chaired by Ms. Jain, aimed at introducing the OPCC background and share feedback on Kochi city's reported actions.