Kota Kinabalu Launches Green City Action Plan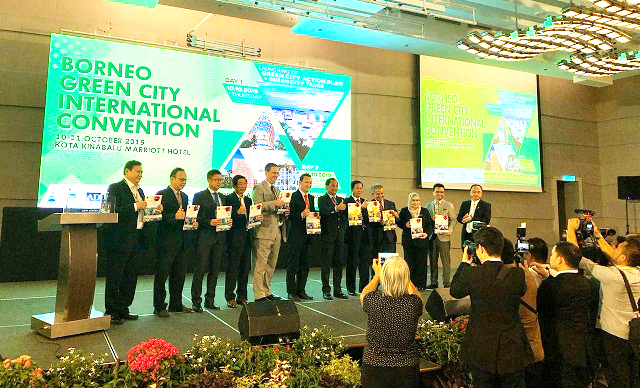 The Borneo Green City International Convention was convened on the 10th and 11th of October 2019 in Kota Kinabalu City, Malaysia. The objective of the convention was to share and promote ideas and initiatives on green, sustainable and smart city development and to exchange knowledge and explore the potential for collaboration.
ICLEI South Asia attended the convention to participate in the launch of Kota Kinabalu's Green City Action Plan (GCAP) on the 10th of October 2019. ICLEI South Asia along with a local consultant prepared the GCAP in partnership with Kota Kinabalu City Hall and with the support of the Asian Development Bank (ADB).
Mr. Shafie Apdal, Chief Minister of Sabah, appreciated the hard work put in by ADB, ICLEI South Asia and Kota Kinabalu City Hall for preparing the KK GCAP. He emphasised the Sabah Government's commitment, saying, "I assure that the government will continue to support the implementation of KK GCAP wholeheartedly. However, in order to achieve a sustainable and resilient city, it requires concerted effort from everyone. This means all stakeholders must play their role and continue to make progress in building a green future for Kota Kinabalu."
Mr Nordin Siman, Mayor, Kota Kinabalu City Hall, expressed his appreciation to BIMP-EAGA and the ADB for selecting Kota Kinabalu to prepare and conduct an extensive and thorough study on the GCAP. He said, "There will be many green programmes that Kota Kinabalu City Hall will roll out in the near future and we need to ensure that these actions are not just lines in a report, but are given life by the work that we now undertake to complete. I look forward to the implementation of the many projects listed in the green city action plan and for Kota Kinabalu City to become the role model for best practices in the BIMP-EAGA region."
ICLEI South Asia presented the key findings of the KK GCAP, while informing the audience that the whole process of preparing it was driven by multi-stakeholder consultations. It said that the nine priority projects of KK GCAP required a total expenditure of USD 331.30 million, and offered significant climate mitigation and resilience benefits to the city.
Mr. Gary Krishnan, Country Specialist, Regional Cooperation in Southeast Asia, ADB, appreciated the leadership of Sabah and Kota Kinabalu, and spoke about the "ASEAN Catalytic Green Finance Facility" – a unique facility that provides loans and necessary technical assistance for sovereign green infrastructure projects such as sustainable transport, clean energy and resilient water systems.