Learning from implementation: 8 Pilot Projects selected for IUWM cities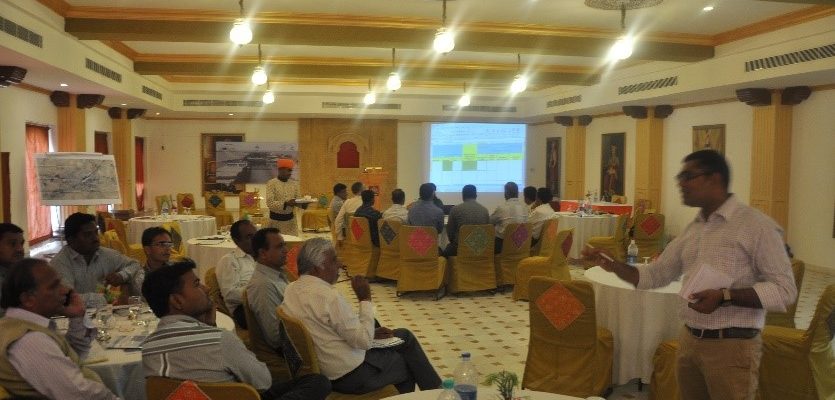 Under the Adopting Integrated Urban Water Management in Indian Cities (AdoptIUWM) Project, a series of activities have been conducted over the past few months. These include: State Level Review Meeting in Rajasthan and second Stakeholder workshops in all project cities where each city formulated an IUWM based vision for a sustainable Water Future and selected Pilot Projects for implementation (total 8 pilot Projects) through a participatory exercise.
A State Level Review meeting in Rajasthan was chaired by Sh. Manjit Singh Principal Secretary, Local Self Government, Government of Rajasthan. The meeting was highly interactive and as an outcome of the meeting the Principal Secretary proposed that the State level Committee constituted under Swacch Bharat Abhiyaan can also act as the IUWM Committee at the State level. It was also suggested that the IUWM tool could be rolled out in more cities of Rajasthan in collaboration with the City Managers' Association, Rajasthan.
The Second stakeholder workshops were conducted in all 4 cities (Jaisalmer, Kishangarh, Solapur and Ichalkaranji). The workshops saw high turnout and the citizens participated in interactive discussions to formulate an IUWM based vision for the city that will guide the city towards closing the water loop in short, medium and long term. The stakeholders were very keen on selection of pilot project.
The pilot projects were selected as part of an interactive exercise, where the stakeholders were asked to rank a set of projects based on environmental, social and economic feasibility/efficiency and the projects that got the highest score were finalized for implementation, in consultation with the Municipal officials. The focus of the pilot projects has been on restoring existing natural and built infrastructure in the project cities. The selected pilot projects for the IUWM cities are:
Jaisalmer: Revival of traditional RWH structure/pond and Plastic waste management.
Ichalkaranji: Treatment and reuse of wastewater from Kala Nallah and Closing the water loop at the level of a slum pocket.
Solapur: Using abandoned bore wells for Groundwater recharge and Restoring defunct community toilets
Kishangarh: Closing the water loop in one government school and 100% door to door collection to prevent pollution of water resources.
Further information on the AdoptIUWM project, can be found here.