Maharashtra IUWM cities undergo water quality monitoring training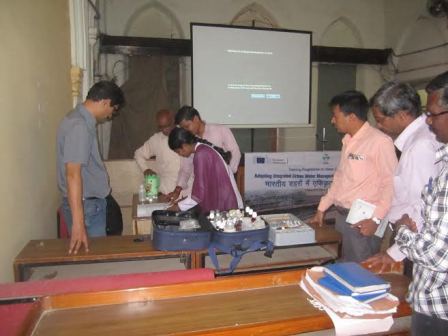 As part of the EU funded Adopting Integrated Urban Water Management in Indian Cities (AdoptIUWM), ICLEI South Asia – in partnership with Development Alternatives – helped the Municipal staff, NGOs and institutions in the project cities of Ichalkaranji and Solapur to get hands on training on water quality monitoring. Both project cities in Maharashtra have been provided with a portable water quality testing kit, which will be stationed at the municipality premises but will also be available for use by the local NGOs and institutions to monitor water resources in and around the city. The kit will help users undertake monitoring of 14 water quality parameters, including key physical, chemical and biological parameters.
Technical representatives from Development Alternatives, along with the ICLEI team, organised in each city capacity building on the need for water quality monitoring and significance of water quality parameters, and gave a practical demonstration of using the kit. Nearly 30 participants in Ichalkaranji and more than 40 participants in Solapur participated in this training. Concerned city representatives are now equipped to undertake water quality monitoring on their own.
Similar training programmes will also be organised shortly in the project cities in Rajasthan as well.
For further information on the IUWM project, visit:
http://southasia.iclei.org/our-goals/resource-efficient-city/adoptiuwm-adopting-integrated-urban-water-management-in-indian-cities/