Onsite demonstration for improving traffic conditions conducted in Ludhiana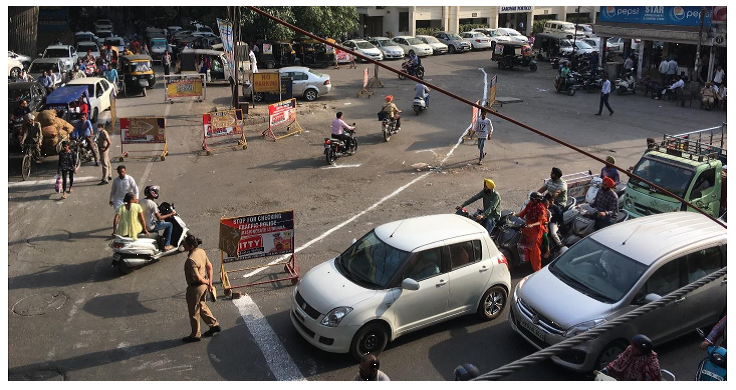 ICLEI South Asia conducted an onsite demonstration for managing traffic problems at Mata Rani Chowk in Ludhiana under Shakti Smart Cities – Phase II funded by Shakti Sustainable Energy Foundation. Before conducting the demonstrations, ICLEI South Asia, with support from Sandeep Gandhi Architects (SGA) and inputs from Ludhiana Municipal Corporation (LMC), conducted a detailed study for six problematic junctions in the city.
Mata Rani Chowk was taken up for conducting the demonstration as it is located close to the Railway Station and caters traffic throughout the day. The junction is surrounded by mix land use and witnesses unorganised circulation of traffic along with slow moving traffic which mixes with the fast moving vehicles on the other arms of the junction causing congestion and accidents.
The demonstration was conducted with support from the LMC staff and traffic police in three phases with the following objectives:
To identify the junction arms which cater maximum traffic.
To identify the difference in traffic volume during peak hours and non-peak hours.
Prepare a design for the junction based on Total Station Survey (TSS) which can be implemented by the LMC.
The project team conducted all the three trial runs for 2- 2.5 hours by segregating the pedestrian and vehicular traffic using barricades and lemon powder. In order to manage the traffic inflow, signal cycles were modified ranging from 90 seconds to 120 seconds for the first trial and 120- 150 seconds for the second and third trial, unauthorised parking was removed, and temporary signages were prepared.
After conducting the first trial, the team made a few changes in circulation pattern in order to cater traffic approaching from Ghanta Ghar chowk (one arm of Mata Rani Junction). This traffic was channelised by removing the unauthorised parking after the first trial. Maximum stacking of vehicles was observed on the arm coming from Air Condition (AC) market and from the old Sabji Mandi Chowk, while minimum stacking was observed on Meena Bazaar arm.
Based on the learnings from the demonstrations, the project team suggested the following measures to the LMC for managing the traffic at Mata Rani Chowk:
Installation of signal poles with a proposed signal cycle plans catering to morning and evening traffic.
Proper management of U-turn with the assistance of traffic police personal due to less availability of space.
Prohibit unauthorised parking and continue channelisation of traffic from Ghanta Ghar chowk.
Maintain the revised carriage widths at each arm used during experimentation.
Install traffic signages and traffic calming provisions at each arm such as the rumble strips.
Segregate pockets of traffic turning (right turns and U-turns) with bollards.
As a next step, the team is in the process of finalising the design for Mata Rani Chowk and it plans to conduct more demonstrations on other problematic junctions of the city.