Exposure Visit for Solapur Rural Core Team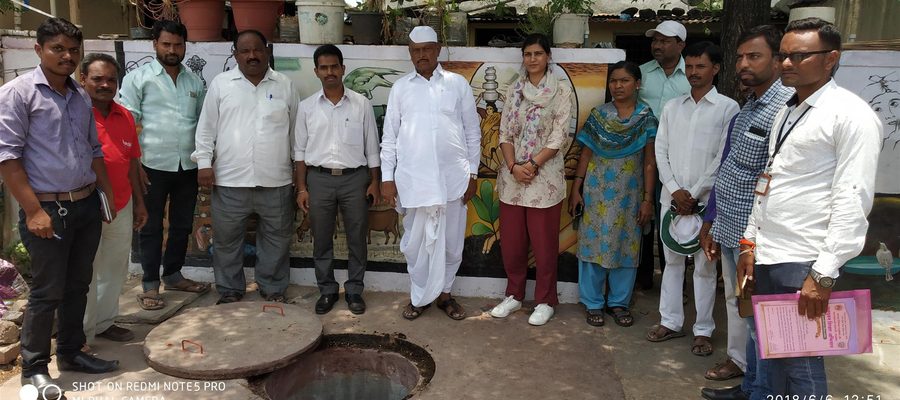 An exposure visit was conducted by ICLEI South Asia for the administrative and elected representatives of TaleHipparga, Ekrukh and Haglur villages and the Agriculture Officer for Integrated Watershed Management Program from the District Collectorate in Solapur on the 6th of June, 2018.
The visit was organised under the Integrated Rural Urban Water Management for Climate based Adaptations in Indian cities (IAdapt) project which is funded by International Development Research Centre (IDRC), Canada.
The participants, along with ICLEI South Asia team, visited BibiDarfal and Wadala villages to understand the work done with participatory approach of villagers to solve their own water issues.
In BibiDarfal, ICLEI South Asia team gave a brief introduction about the project and its objectives. Mr. Vishal Deshamukh, local expert in water conservation, explained the basic topography of the village. He also focused on the issues faced by villages in terms of water availability, pollution of existing water resources and waste water management problems. All these problems were leading to health issues, economic loss from agriculture sector and superfluous efforts to collect water for domestic usage for villagers.
To help the village overcome these problems, Lokmangal Foundation – a local NGO had conducted awareness campaign and provided financial support for water conservation activities. Nallah (storm water stream) widening, desiltation, plantation, compartment bunding, weir construction, ground water recharge were some of the activities done in the village. All these efforts resulted into ground water recharge as nallah can store more water for longer durations. This has helped the nearby open wells and borewells are receive more water throughout the year. This has also increased the financial incomes for farmers and shortened the distance for drinking water availability.
In Wadala, huge amount of work for sanitation and water conservation has been executed. The work was done on the basis of participatory involvement which resulted in Wadala pattern, a model framework, for water conservation works.
Mr. Baliram Sathe, one of the leaders in the village, has been motivating the residents of the village to practice water conversation, and dedicate a few hours every day to this activity. As a result, villagers have constructed soak pits for gray water, and they now aim for a gutter free village.
From ICLEI South Asia, Mr. Sharad Wagh, Mr. Nikhil Kulkarni, Ms. Geeta Sandal and Ms. Monalisa Sen were present during the visit.