Pangi Landscape Study: Surveys to Identify Drivers of Degradation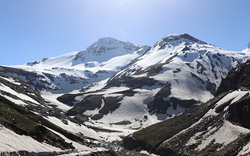 Participatory rural appraisals and household surveys are being conducted in villages in the Pangi landscape. Biodiversity surveys are also being held along with participatory resource mapping.
This is part of a UNDP-supported study to define the extent and intensity of habitat degradation in the alpine and sub-alpine areas in the SECURE Himalaya project landscapes of Himachal Pradesh.
The study will also identify the drivers of degradation and prepare a study proposal for developing a model mitigation plan.
In order to understand the level of degradation in the high-altitude pasture lands, detailed interactions are being carried out with the Gaddis, the nomadic pastoralists who come to the landscape every year.
The information collected by the surveys will be collated to identify the hotspots of degradation in the landscape.