Partnership between UDD (government of Gujarat), ICLEI and CEE formalized at Vibrant Gujarat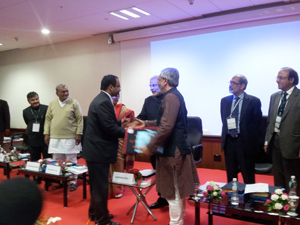 During the Vibrant Gujarat Summit, that took place on 11-13th January 2013 at Mahatma Mandir, Gandhinagar, India, ICLEI signed a Memorandum of Understanding (MoU) with the Department of Urban Development and Urban Housing, from the Government of Gujarat, together with the Centre for Environment Education (CEE). The objective of this MoU is to establish innovative partnerships between the parties, with the goal to develop, demonstrate and share action plans and good practices related to urban sustainable development.
As a first step, an assessment of the current initiatives will be carried out for the major urban centres, as well as small and medium towns, in the State of Gujarat and will then be followed by correspondingly tailored initiatives related to the areas of urban mobility, urban greening, biodiversity strategy and action plans, and resource-efficiency for urban areas. The ultimate objective of the MoU is to use these pilot interventions to then develop best practices and showcase the different options for low-carbon and resource-efficient urban growth in Gujarat at national and international fora, thus providing opportunities for mutual learning and sharing for urban local bodies.