PROMISE Impact: Stakeholders Call for Connecting Rural, Urban Futures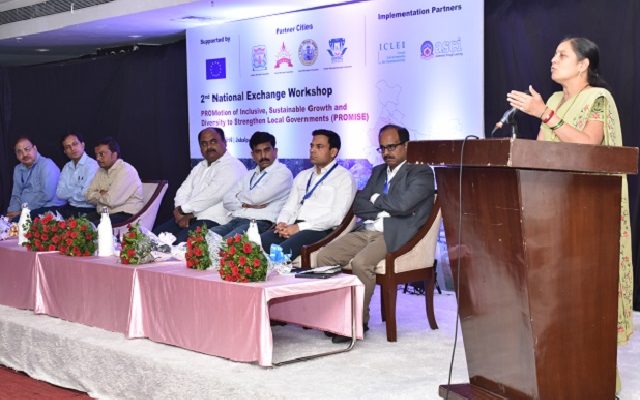 ICLEI South Asia organised the second national exchange workshop under the PROMotion of Inclusive, Sustainable Growth and Diversity to Strengthen Local Governments (PROMISE) project in Jabalpur on 19th and 20th June 2019.
The project was funded by the European Union. The workshop was organised in partnership with the Jabalpur Municipal Corporation (JMC), under the guidance of the Urban Administrative and Development Department, Madhya Pradesh. More than 150 participants from various sectors, including 50 towns and cities, attended the event.
The PROMISE project was implemented in the cities of Jabalpur, Karnal, Ajmer and Warangal in association with the Administrative Staff College of India. It aimed at inclusive and sustainable growth through infrastructure improvement projects, which were implemented under national schemes such as Smart Cities, AMRUT, Swachh Bharat and Housing for All.
The workshop was organised to disseminate the experiences and lessons learnt as part of the PROMISE project in all four partner cities. The event included step-by-step demonstration and guidance in using the PROMISE tool, along with discussions over replicability and scalability of the project initiatives. Examples of relevant good practices from across India were presented to sector-specific experts and delegates.
INCLUSIVE PLANS
The PROMISE toolkit is an excel-based tool that is used to evaluate the existing service levels of the city, and to receive ideas from the city authorities and other stakeholders who are the end-users. Given the variety and diversity of the beneficiaries and the specificity of their needs in our cities, the toolkit looks at connecting with local communities, especially women, the elderly, youth and vulnerable sections of the society. It assists local authorities in prioritising urban infrastructure projects based on the desired outcomes. The workshop was expected to promote and facilitate the uptake of the PROMISE tool by other urban local bodies also.
Inaugurating the workshop, Dr. Swati Godbole, Mayor, Jabalpur, thanked ICLEI South Asia for organising the event and asked for inclusive peri-urban and rural area development plans in urban development strategies and initiatives.
Gajendra Singh Nagesh, CEO, Smart City Pvt Ltd, Jabalpur, said that efforts towards achieving development were a continuous process and desirable for improving the quality of life. He said such efforts should always be encouraged and continued, leading to a definite improvement in urban systems. He noted that the PROMISE project added value to this continuous process by providing a clear vision and methodology, and expertise such as advisory research and technical knowledge.
Mr. Nagesh acknowledged that public participation was missing in a majority of the projects due to which there was a palpable lack of ownership on the part of the citizens towards major initiatives. Thus, the dissemination workshop was essential and important in the context of inclusive development, as it was a platform that encouraged interactive sessions and enabled knowledge exchange.
Apart from a demonstration and guidance session on the PROMISE toolkit, the experts who made presentations included Sachin Vishwakarma, CEO Jabalpur City Transport Services Limited (JCTSL); Abhishek Khapre, Senior Research Fellow, National Environment and Energy Research Institute, Nagpur; Rakesh Ayachi, Deputy Commissioner, JMC; Ekta Aggarwal, Assistant Commissioner, JMC; and corporators Rinku Vij and Kamalesh Agarwal.
There were also presentations by Santyander Dhakar, Joint Director, Urban Administrative and Development Department, Government of Madhya Pradesh; R.K Sharma, Add. Commissioner, JMC; Narasimha Ramulu, Deputy City Planner, Greater Warangal Municipal Corporation; Dheraj Kumar, Deputy Commissioner, Karnal Municipal Corporation; Ajay Sharma, Executive Engineer (sewerage), JMC; Dr. Anand Wadwekar, Assistant Professor, School of Planning and Architecture, Bhopal; Dr. R K Srivastav, Head of Department, Environment Science, Government Science College, Jabalpur; and Ashok Bhattacharjee, Former Director, Unified Traffic and Transportation Infrastructure (Planning & Engineering) Centre.
On day two of the workshop, the participants visited sites that showcased good-practice initiatives by the JMC.
The visits, conducted in collaboration with the JMC and the Jabalpur Smart City Development Corporation Limited, were to Gulauaa Talab, a large lake developed as a public space in the city; a non-motorised transport (NMT) corridor developed on Omti Nala of the Smart City Area in the city; a Smart Parking project, developed to enhance the overall functioning of streets in the city and create walkable streets; and an Integrated City Command and Control Centre to promote resilience; besides an Intelligent Traffic Management System that aims to reduce traffic violations; a waste-to-energy plant; and Jabalpur's integrated bus stand.