Rajasthan IUWM cities advance forward with support from the State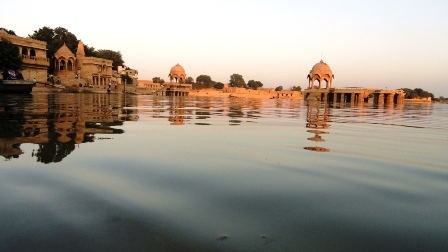 The State Government of Rajasthan has embarked on an initiative to establish a State Level IUWM (Integrated Urban Water Management) Committee, comprising of departments related to water and allied sectors at the State level to facilitate uptake of principles and practices based on IUWM at the State level. This was one of the key outcomes of the State level review meeting held in Jaipur, Rajasthan on 26 March 2014 for the EU funded Adopting Integrated Urban Water Management in Indian Cities (AdoptIUWM) project. This State level IUWM Committee will also have representatives from local NGOs, Project City Municipalities and State level Institutes.
The State Level Review Meeting was held after completion of Year 1 of the AdoptIUWM project to update the State Government on the key issues identified in the project cities – Jaisalmer and Kishangarh, the progress made so far under the project and the objectives planned for the upcoming year. The review meeting, chaired by the Principal Secretary Sh.D.B. Gupta (IAS), Department of Urban Development and Housing, Government of Rajasthan, was attended by numerous participants. Sh. Dinesh Kumar, Secretary, LSG, DLB and Sh. Beniwal, Director, DLB also attended the meeting along with representatives from project cities and other State level departments. The key issues that have been identified through stakeholder consultations and analysis in the 2 project cities of Jaisalmer and Kishangarh were also presented at the meeting. These issues are:
Jaisalmer: Conservation of inter linkages between ponds, high T&D losses (nearly 40%), poor condition of traditional rain water harvesting structures;
Kishangarh: Pollution of water bodies and groundwater due to marble slurry, eutrophication due to untreated wastewater and effluent.
The Principal Secretary extended his support for the AdoptIUWM project and also suggested alternate funding options that can be explored for implementation of the first pilot project in the two cities.
For further information on the project activities in the South Asian region, visit:
http://southasia.iclei.org/our-goals/resource-efficient-city/adoptiuwm-adopting-integrated-urban-water-management-in-indian-cities/