Renewables 2014 Global Status Report now out!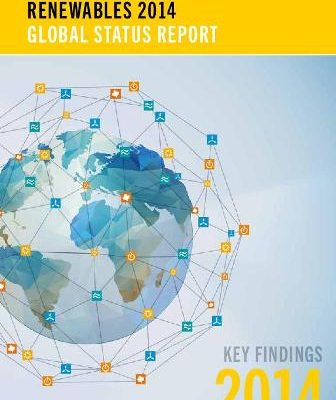 "Developing and emerging economies account for 70% of countries globally which support Renewable Energy uptake through relevant policies and actions,"comments Emani Kumar, ICLEI – Local Governments for Sustainability Deputy Secretary General and ICLEI South Asia Executive Director, on the newly released Renewables 2014 Global Status Report. "Cities and regions are adopting very ambitious goals of meeting 100% of the energy demand by transitioning to renewable energy, either in specific sectors or across the economy. This is possible only through technology and market developments, finance models, as well as stable and predictable renewable energy policies, which need to be systematically linked across the public and private sectors in order to support and drive the transition process."
The latest edition of the annual Renewables Global Status Report was launched at the UN-hosted Sustainable Energy for All in New York by the Paris-based Renewable Energy Policy Network for the 21st Century (REN21). The 2014 report, of which ICLEI – Local Governments is a contributor, credits support policies with a central role in driving global renewable energy capacity to a new record level last year — 1,560 gigawatts (GW), up 8.3% from 2012. More than 22 % of the world's power production now comes from renewable sources.
The number of emerging economy nations with policies in place to support the expansion of renewable energy has surged more than six-fold in just eight years, from 15 developing countries in 2005 to 95 early this year. Those 95 developing nations today make up the vast majority of the 144 countries with renewable energy support policies and targets in place. The rise of developing world support contrasts with declining support and renewables policy uncertainty and even retroactive support reductions in some European countries and the United States.
Additional highlights of the report include:
Overall last year, renewable electricity capacity achieved a new record level, jumping 8.3% and accounting for more than 56% of net additions to global power capacity: renewables meet almost one-fifth of world final energy consumption.
Hydropower rose by 4% to approximately 1,000 GW in 2013, accounting for about one-third of renewable power capacity added during the year. Other renewables collectively grew nearly 17% to an estimated 560 GW.
Renewable energy provided 19% of global final energy consumption in 2012, and continued to grow in 2013. Of this total share in 2012, modern renewables accounted for 10% with the remaining 9% coming from traditional biomass the share of which is declining.
Even as global investment in solar PV declined nearly 22% relative to 2012, new capacity installations increased by more than 27%. The solar PV market had a record year, adding about 38 GW in 2013 for a total of approximately 138 GW.
Heating and cooling from modern biomass, solar, and geothermal sources account for a small but gradually rising share of final global heat demand, amounting to an estimated 10%.
Global new investment in renewable power and fuels was at least USD 249.4 billion in 2013 down from its record level in 2011.
"Global perceptions of renewable energy have shifted considerably," says Arthouros Zervos, Chair of REN21, "Over the last 10 years, continuing technology advances and rapid deployment of many renewable energy technologies have demonstrated that the question is no longer whether renewables have a role to play in the provision of energy services, but rather how we can best increase the current pace to achieve a 100% renewables future with full energy access for all. For this to be become reality, current thinking needs to change: continuing the status quo of a patchwork of policies and actions is no longer sufficient."
"As cities seek to share and scale up best practices, highlight their commitments to renewable energy, and account for their achievements, local governments are increasingly prioritising systematic measurement and reporting of climate and energy data. ICLEI – Local Governments for Sustainability is supporting cities in this process. The Renewables 2014 – Global Status Report, prepared by the Renewable Energy Policy Network for the 21st Century with inputs from ICLEI, highlights and details this inspiring shift in global policy towards adoption of RE", concludes Emani Kumar, who is also a member of REN21 Steering Committee.
The report can be downloaded here: http://www.ren21.net/REN21Activities/GlobalStatusReport.aspx. A webinar on the report finding will be organized on 4 June at 3:30 IST (Indian Standard Time: GMT + 5:30). To register click here.