Rajkot City Won OPCC Award 2018, Urban LEDS II launched at WWF-India Event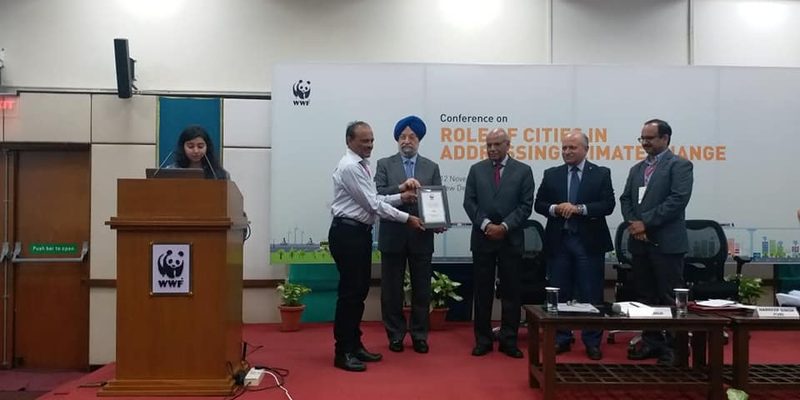 ICLEI member city Rajkot was felicitated with One Planet City Challenge (OPCC) award at the 'Role of Cities in Addressing Climate Change' conference organised by WWF-India in partnership with ICLEI South Asia on the 12th of November in New Delhi.
The city was announced as the winner and was also felicitated at the OPCC global award ceremony during the Global Climate Action Summit in San Francisco, United States. Along with Rajkot, 10 other cities from India participated in the 2017-2018 round of this global challenge, in which Panaji and Pune were also selected as finalists. These three cities were amongst the 40 finalists from the 132 cities across 23 countries that participated in the challenge this year.
The 'Role of Cities in Addressing Climate Change' conference aimed to discuss the contribution of cities in addressing climate change from a mitigation and resilience perspective. The city of Pune also got a Special Mention by the international expert jury at the event.
The conference was inaugurated by, Sh. Hardeep Singh Puri, Hon'ble Minister of State, Ministry of Housing and Urban Affairs, Government of India, and saw participation from key stakeholders including representatives of central and state governments, city municipal corporations, financial institutions, multilateral organisations, research institutes, think tanks, and NGOs.
Speaking on the occasion, Sh. Hardeep Singh Puri, Hon'ble Minister of State, Ministry of Housing and Urban Affairs, Government of India said, "The New Urban Agenda resolves to enable national, sub-national and local governments along with other stakeholders to achieve sustainable urban development. The future of climate action is therefore in our cities. The Government of India is focusing on the transformation and rejuvenation of cities through various schemes and programmes which have a thrust on promoting smart solutions that can make cities climate resilient and sustainable. Environmental management and climate change require collective action from all sectors of the society, organisations and government institutions".
The highlighted the need for integrating climate action into development planning in cities and to build capacities in cities to achieve this. It also outlined the importance of taking a collaborative approach by departments and organisations towards mainstreaming climate issues across different initiatives with an intrinsic role being played by the citizens to drive this change. The deliberations also revolved around the need for developing integrated strategies and policies to address climate change and air pollution not just from the environment and health angle but also from social and economic perspectives. The conference went on to delve upon the challenges and the economic case for climate resilient planning which stated the need for development of infrastructure in cities, taking into consideration pre-disaster planning and integrating forecasting mechanisms to build climate resilience.
"Activities are happening in Indian cities. More than 24 cities have participated in the One Planet City Challenge. That is encouraging. 30 cities have come out with a resilient plan," said Mr. Emani Kumar, Executive Director, ICLEI South Asia.
In a session called Climate Action in Cities – Mitigation, phase II of Urban LEDS project was introduced. The project is supported by European Commission and will be implemented by ICLEI World Secretariat and UN-HABITAT with support from ICLEI regional offices in South Asia, Europe, Latin America, East Asia, South Africa.
The Urban LEDS project aims to contribute to the reduction of GHG emissions in cities/towns in emerging economies (Brazil, Colombia, India, Indonesia and South Africa), and least developed countries (Bangladesh, Lao PDR and Rwanda). This objective is aligned with the implementation of the Paris Agreement under the UNFCCC.
The session provided an improved understanding of linkages between climate change mitigation and urban planning, and presented case studies from cities that have walked the extra mile towards climate smart planning and have tangible low carbon actions and outcomes to showcase. Results from Phase I of the Urban LEDS project were also discussed.