Bangladesh hosts Cities and Regions Talanoa Dialogue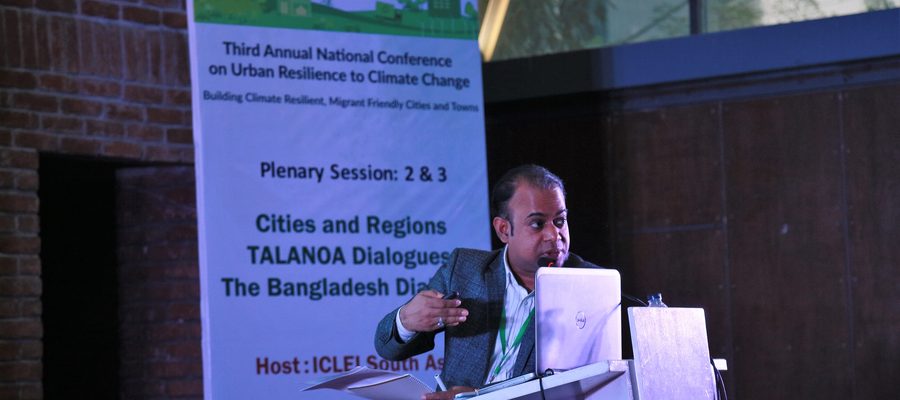 ICLEI South Asia and International Centre for Climate Change and Development (ICCCAD) jointly organised the Cities and Regions Talanoa Dialogues: The Bangladesh Dialogue on the 18th of November during the Third Annual National Conference on Urban Resilience in Dhaka, Bangladesh.

ICLEI – Local Governments for Sustainability is supporting the Talanoa Dialogue – a United Nations (UN) process to take stock of climate action and commitments around the globe. The aim of the initiative is to inspire more ambitious national plans needed to achieve the goals of the Paris Agreement. The Presidencies are encouraging Parties and non-Party stakeholders to cooperate in convening local, national, regional or global events in support of the Talanoa Dialogue.
Stakeholders from governments including the Ministry of Environment, Forest and Climate Change, Bangladesh Planning Commission, Department of Environment, Local Governments, and international community, multi-bilateral financing institutions, development partners, private sectors and different civil societies attended the dialogue.
"Citizens at the grass root level feel the impact of climate change in their everyday life and building resilience of communities is very important for our lives, health and livelihood," said Dr. Nurul Quadir, the Additional Secretary and Head of Climate Change Wing, Ministry of Environment, Forest and Climate Change.
Mr. Zannatul Ferdous, Hon'ble Mayor of Singra Municipality said, "All municipalities should and can take action to address climate change. For example – if all municipalities in Bangladesh change their conventional street lights to solar powered or LED streetlights, dual benefits will accrue."
It was also mentioned that the Ministry of Environment, Forest and Climate Change has developed a five-year strategic Country Investment Plan (CIP) (2016-2021) to address the NDC targets and climate challenges.
"We can achieve the targets of our NDC, we do not need grants, but we need technology and private sector investment to do that," said Dr. Taibur Rahman, Deputy Chief of Bangladesh Planning Commission.
The current NDC is also aligned with the Seventh Five Year Plan (7FYP) of Bangladesh Planning Commission under the Ministry of Planning that includes a number of climate actions.
Some of the key lessons identified at the dialogue were building awareness, innovative finance and improving capacity building among all level of stakeholders.
ICLEI South Asia will communicate this dialogue outcomes to UNFCCC as one of the focal point of Local Governments and Municipal Authorities (LGMA) constituency. As the country dialogue can contribute the broader Talanoa process into climate negotiations at COP24 in Poland.