Review Meeting held at Udaipur under Shakti Smart Cities Project Phase II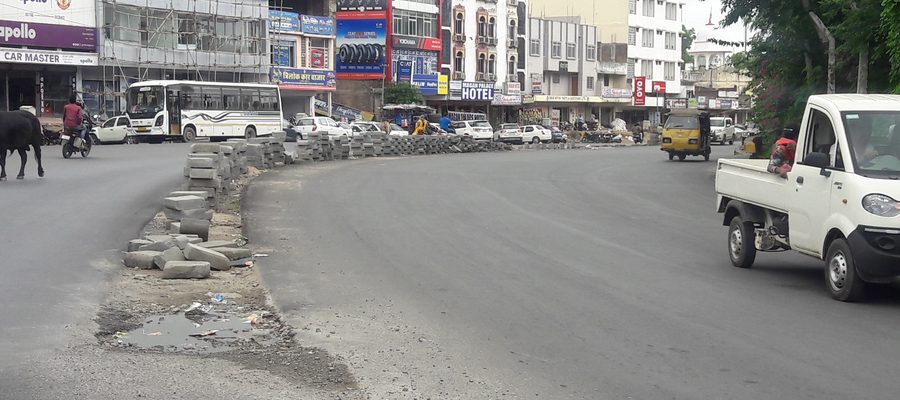 ICLEI South Asia under the project Supporting Sustainable Urban Transport & Built Environment in four Smart Cities in India, funded by Shakti Sustainable Energy Foundation, conducted project review meeting in Udaipur – one of the project cities.
Meetings were held with the Mayor, Udaipur Municipal Corporation (UMC); Additional Chief Engineer, UMC; Executive Engineer, UMC; Deputy Town Planner Udaipur Smart City and Chief Construction Manager, EPTISA Project Management Consultant for Udaipur Smart City Limited (USCL). The discussions focused on updating the city officials on the two policies being formulated by the project team, identifying new avenues in mobility sector to assist Udaipur and understanding the status of ongoing mobility projects in the city.
Chand Poll parking
The project team explained the significance of policies on non-motorised transport and parking to the city officials and their use for the city to implement mobility projects related to parking and non-motorised transport.
The city officials updated the project team on the status of parking facilities being developed in the city under Smart City Mission. Two parking lots – one at Chand Poll and the second one at Delhi Gate are expected to be completed within this year.


The parking lot at Chand Poll is expected to be operational by September 2018 and the second parking lot at Delhi Gate is expected to be operational by December 2018.
The officials also updated the project team about the status of projects such as public bike sharing scheme and city bus procurement which are getting delayed due to lack of bidders. They also discussed about additional problematic junctions and road stretches in the city which need immediate attention. The city officials have requested for conceptual design for two junctions in the city along with the redesign of 700 m (approx.) stretch on Station Road.
In the coming weeks, ICLEI South Asia plans to have similar discussions in other project cities also.