Rithika Fernandes: Sustainability champion at ICLEI South Asia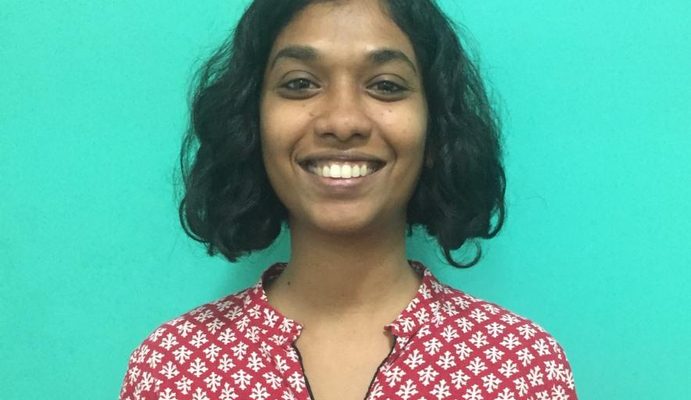 Rithika Fernandes is a Project Officer at ICLEI South Asia where she works with the sustainability team. Her passion for bringing sustainability to lives is not restricted to her profession. She believes in taking that to her own life too and is an inspiration for many at the workplace. Here are edited excerpts from a conversation with her
How would you briefly describe your so far journey with ICLEI?
My journey with ICLEI South Asia, although a short one till now, has been full of enriching experiences. I have had the chance to visit a number of cities with whom we are working, interact with a diverse range of stakeholders, attend peer-organised conferences and participate in the UN Winter School on Sustainable Consumption and Production. Working at ICLEI has also helped me become more aware of my own lifestyle choices and how I can contribute to sustainability and the sustenance of the planet.
What do you think are your key contributions to the team at ICLEI South Asia?

I work in the Sustainability team within ICLEI South Asia and have been a part of two very different projects dealing with climate adaptation and building resilience. The first is funded by the Rockefeller Foundation and has been a long duration project, the first phase of which started in 2010. The second was a nine-month project called Urban Resilience and Informality, funded by Misereor and was concluded at the end of 2016. The first deepened my understanding of local processes across India's various geo-climatic zones which, in turn, needed to be translated into a document which tied scientific and social experiences together to provide city governments with guiding frameworks on climate resilience and adaptation. The second was a new area for ICLEI, foraying into urban poverty and how climate resilience building is imperative for this section of the population.
My contribution to the team is to translate the experiences and the data collected into something that is clear, understandable and can be translated into actionable points within the city.
You have recently attended the winter school at UN. Please share your learnings from the same.
The UN Winter School on Sustainable Consumption and Production was organised by the United Nations Environment Programme and its partners, South Asia Cooperative Environment Programme and University of Peradeniya, Sri Lanka, from November 7-19. The course aimed to improve the knowledge of future decision makers in the area of Sustainable Consumption and Production and thus contribute to the design and implementation of policies, business models and practices that can promote sustainable resource management in a life cycle perspective for goods and services produced and used by governments, business and civil society.
I was fortunate enough to be one of 25 selected candidates (out of 170 applicants) representing eight South Asian countries (Afghanistan, Bangladesh, Bhutan, India, Maldives, Nepal, Pakistan and Sri Lanka).
The biggest takeaway for me was how much regional cooperation can achieve and how much South Asia is losing out on simply because of the fragile state of politics in the region. There are several shared issues in the region that can be addressed by cooperation between the member countries. Some of these relate to sustainable and equitable resource extraction and use, sustainable financing mechanisms and trade markets, good governance, data availability and data sharing, disaster risk reduction and climate change resilience development and most importantly equitable trans-boundary management of natural resources to name a few. Reflecting on this long list of issues and whittling it down into something more actionable is necessary.
How do you think common man can contribute to the agenda of sustainability?

It is very difficult to answer this question simply because the answer can either be viewed as hypocritical or as extreme. Hypocritical because we all sit in offices where we use air-conditioning, travel by flight for personal and professional purposes, consume goods that are not necessarily environmentally sustainable. Extreme because by and large, the conversation around sustainability is subsumed by economics, and it should not be. People should be made to feel uncomfortable rather than placated with the option of choosing a sustainable lifestyle when it suits them. Perhaps, all I can suggest is that we all start having a conversation around what is more important — having a planet to live in or a lifestyle of comfort and luxury and take (or don't take) the necessary steps according to the choice we have made.