Session on NDC Implementation in Asia at Cities & Regions Pavilion, COP23 – Bonn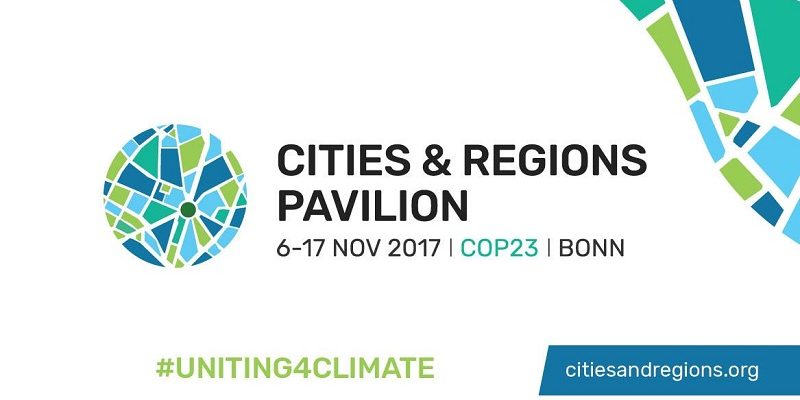 ICLEI South Asia, ICLEI South East Asia and ICLEI East Asia in their capacity as the Asia LEDS Partnership (ALP) Secretariat organised a session on 'NDC implementation in Asia' on the 11th of November, 2017 at Cities & Regions Pavilion, COP23 – Bonn.

Mr. Emani Kumar – Deputy Secretary General of ICLEI Global & Executive Director of ICLEI South Asia gave opening remarks. This was followed by presentations by Mr. Ron Benioff, Director of LEDS Global Partnership, on the role of the LEDS Global Partnership and Ms. Soumya Chaturvedula, Deputy Director of ICLEI South Asia, on the Asia LEDS Partnership. A key-note address on LEDS implementation in the Province of Melaka, Malaysia and remarks on NDC implementation by country representatives and sub-national representatives were also shared.
Dr. Hasan Mahmud, Chairman, Parliamentary Standing Committee of the Ministry of Environment & Forests Bangladesh and former Minister of the Ministry of Environment and Forests, Bangladesh; and Ms. Sandee Recabar, Planning Officer V and Chief, Implementation Oversight Division, Climate Change Commission, Government of Philippines indicated that the countries are well on their way to address the commitments in the NDCs.

Datuk Seri Utama Ir. Hj. Idris bin Hj. Haron, Chief Minister of Melaka, Malaysia showcased the green growth and low emission development initiatives that the state is spearheading, and the role of Chief Minister in advocating green growth in the Indonesia-Malaysia-Thailand region. Melaka Province, Malaysia also joined the Asia LEDS Partnership as the first provincial member.
Ms. Nanda Jichkar, Mayor of Nagpur, reaffirmed the commitment of the city to low carbon development. Ms. Jichkar indicated that the city is implementing renewable energy and energy efficiency initiatives as per its Smart City Mission initiatives.
Mr. Benioff informed the audience about the services of the LEDS GP, the working groups and the regional partnerships that are designed to support the country governments in achieving their NDC commitments.