Singra E-Mobility Project Sets the Pace for Climate Action in Bangladesh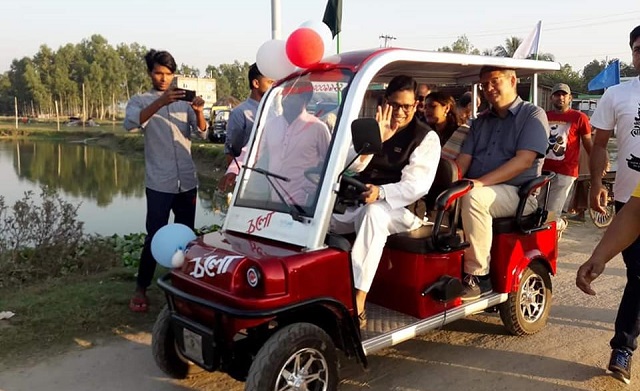 Singra Municipality, a small city in Bangladesh, has set an example in climate action for the country and the globe to follow. It has successfully implemented a project on "Promoting E-Rickshaw as a Public Transport and Emergency Health Supporting Services," supported by the Federal Ministry for Economic Cooperation and Development (BMZ), Germany, and in collaboration with GIZ and ICLEI South Asia.
As part of the project, eight e-rickshaws and two e-ambulances were launched on the 29th of November 2019 in Singra.
The opening ceremony was inaugurated by Mr. Zunaid Ahmed Palak, State Minister for Information and Communication Technology (ICT) of Bangladesh, Mr. Zannatul Ferdous, Mayor, Singra Municipality and Mr. Akramul Hossain, Additional Superintendent of Police. Among those present at the event were Mr. Werner Lange, Deputy Country Director, GIZ Bangladesh, Mr. Binayak Chakraborty, Project Coordinator, Transformative Urban Mobility Initiative (TUMI), and ICLEI South Asia staff.
The first TUMI challenge was introduced in 2018, in which 130 global projects competed. Singra's "Promoting E-Rickshaw as a Public Transport and Emergency Health Supporting Services" project came third in the challenge, a remarkable achievement for a small city.
ICLEI South Asia supported the Singra Municipality in preparing the project proposal, which aims to promote modernised, low-cost and eco-friendly public transportation and health services. These electric vehicles will reduce fuel consumption and air pollution, and ensure proper management and efficient energy usage.
The project has become a benchmark for the country, where other cities face challenges in regulating the operation of e-rickshaws and unauthorised electricity consumption and in curbing public health impacts.
Mr. Palak said the e-rickshaw project was acknowledged to be the most innovative project in the public transportation system of the country. He added that "this is the transition of development at the local level, especially in the transport and ICT sectors, which you could not see in 11 years ago."
The project won the urban resilience award in 2019, during the fourth Annual National Conference on Urban Resilience to Climate Change, for being one of the best climate action initiatives in Bangladesh.
Speaking at the Singra event, Mr Ferdous said, "This project is a joint effort of a team that includes GIZ, ICLEI South Asia and the Singra Municipality. We are feeling very proud at this moment and my heartiest thanks to all the members of this team."
Mr. Binayak Chakraborty, the project coordinator from Singra Municipality who is responsible for the overall implementation work, said: "The TUMI team of Singra has played an important role in the successful completion of this project. It would have been impossible without the support of GIZ and ICLEI South Asia."