Six Indian 'satellite' cities benefit from approaches and practices of low-emission urban development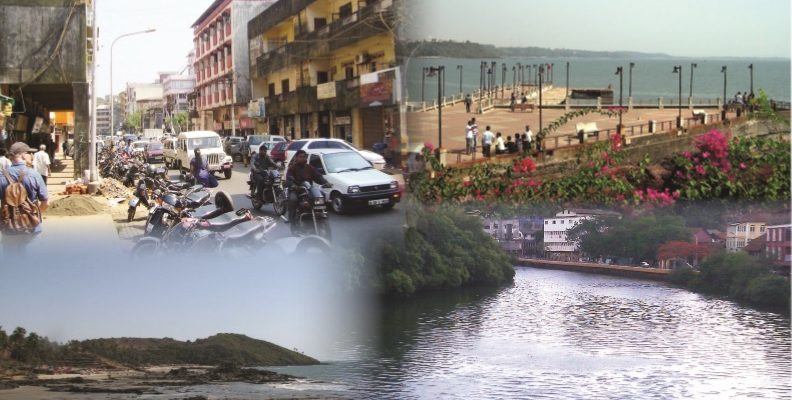 The Urban-LEDS project supports rapidly growing cities in four emerging economy countries: Brazil, India, Indonesia and South Africa. From India, Panaji, Gwalior, Shimla, Coimbatore, Nagpur and Pimpri-Chinchwad are six of the emerging cities that have been chosen as satellite cities or the cities that are closely involved in observing, sharing and learning from the two model cities – Rajkot and Thane – and embarked on the process of low carbon planning, following ICLEI's comprehensive GreenClimateCities (GCC) programme that prioritizes a low carbon economy, focusing on efficient use of natural resources, sustainable and smart urban mobility and improvement of urban livelihoods.
The selected cities have recently made significant strides in the areas of climate change adaptation and mitigation, with particularly notable efforts the areas of low carbon emissions. Five of the six cities have inventorized their greenhouse gas (GHG) emissions by following The Global Protocol for Community-Scale Greenhouse Gas Emission Inventories (GPC) and by using ICLEI's web-based emission quantification tool HEAT plus. The total GHG emissions for Panaji, Pimpri-Chinchwad, Gwalior, Shimla, and Coimbatore cities were 144,599 (2013-14); 3.18 million (2012-13); 1.19 million (2013-14), 218,898 (2013-14), 4.57 million (2014-15) tonnes of carbon dioxide equivalent (tCO2e) respectively. An estimated per capita GHG emission in satellite cities against the respective base year compared to the 2010 national average are provide below:
Besides, a series of stakeholder consultations were held in two of the satellite cities to identify and prioritise strategies and mitigation interventions in energy and emission intensive sectors, which can significantly reduce GHG emissions while improving the livability of the cities, when scaled up.
All the Urban-LEDS satellite cities frequently report their carbon emissions, clean development commitments and targets, and associated sustainable actions on the Carbonn Climate Registry (cCR) – world's leading reporting platform of climate actions for local and subnational governments.
In 2016, the Corporation of the City of Panaji, Goa, adopted a low emission development strategy (LEDS), defining the city's mitigation actions plan for the next five years. Panaji LEDS was formulated as per the GreenClimateCities low carbon framework. Proposed mitigation actions in various community and municipal service sectors potentially result in GHG emission reductions of 27,331 tonnes of CO2e in next five years, aggregating to about 19 percent of Panaji City's baseline 2013-14 annual GHG emissions. The city plans to achieve this by 2019-20.
Panaji has received technical assistance under the project for designing a deferred payment based annuity model, which can be used to tender out the retrofitting of 5,600 streetlights to LED lights, reducing energy consumption by 57 percent, with energy savings potential of 2.7 million units and reduction in 2,221 tonnes of CO2e per annum.
Also detailed designs on energy efficient lighting for the municipal market were developed along with cost estimates for the same. It has been estimated that with the required investment of Rs 60-70 lakh, implementation of proposed interventions would lead to reduction of 200,000 units (kWh) energy demand. This would account to 33.33 percent of the base year 2014-15 and lead to monetary savings of Rs 9 lakh annually.
Shri Dipak Deesai, Commissioner at Corporation of The City of Panaji, says, "Panaji has greatly benefitted out of the whole process of participating in Urban-LEDS programme. I specially want to mention the Green Climate Cities (GCC) methodology developed by ICLEI to guide local governments to undertake integrated local climate actions was critical to systemize the process".
Gwalior from Madhya Pradesh is another satellite city which received assistance for low emissions oriented Solid Waste Management planning, wherein an Integrated Solid Waste Management Plan was developed, focusing on reducing emissions from solid waste treatment and disposal in Gwalior. It has been estimated that commissioning of the proposed 280 Tonnes Per Day (TPD) Waste-to-Energy (WtE) plant and 40 TPD Bio-methanation plant would reduce the emission in tune of 75,818 tCO2e by the year 2018. This would amount to 56 percent of the base year (2015) emissions, an assessment suggests.
Mr. Vivek Shejwalkar, Mayor of Gwalior City expressed his views on the project saying, "It is through Urban-LEDS programme and continuous support through exchange of ideas and best practices that Gwalior city has had the opportunity to join the premiere cities league in the Global South, to address some of the common environmental challenges of our time." He adds, "Gwalior is also looking at optimally utilizing renewable sources of energy and improving on demand side management."
Panaji and Gwalior have also submitted proposals to secure funding under the Transformative Actions Platform (TAP), being coordinated by ICLEI along with other partners. Project proposals were presented for potential funding during the Paris Climate Change Conference (COP21/CMP11), in Nov, 2015. Financial institutions are screening both proposals for further financing.
In a nutshell, over the last four years, satellite cities from India of Urban-LEDS project have benefited from learning exchanges, shared experiences on adopting innovative models to plan for and implement low emission development strategies. Convinced of the role of local governments as key drivers and implementers of urban sustainable development, with a focus on low-carbon transition, cities are geared up to mainstream low emissions oriented planning.
For more information on all the leading activities carried out by Urban-LEDS Indian satellite cities, please write to iclei-southasia@iclei.org.