Spotlight on the achievements of the past year through ICLEI South Asia Annual Report 2012-13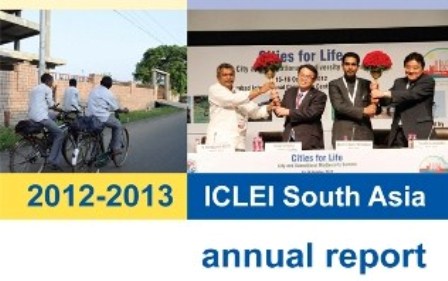 The past year has proved to be extremely rewarding and constructive for ICLEI South Asia, our numerous member cities and our esteemed partners. Now that we step into a New Year, it is time to have a glance back: this is why ICLEI South Asia has just released the Annual Report 2012-2013 which describes and highlights the achievements of our cities and the contribution of our office to a more sustainable South Asian region.
The Annual Report sheds light upon various initiatives and local solutions that ICLEI South Asia, together with cities and partners, has carried out, such as guidelines on low carbon growth, improvement of sanitation conditions, awareness-raising on adaptation to climate change, support to municipalities in implementing Renewable Energy & Energy Efficiency projects, strengthening of South-South cooperation and much more, for the upliftment of the cities and their people.
The Report not only emphasises on the happenings of 2012-2013 but also gives glimpses of programmes and events to look out for in the coming year.
Click here to download 2013 ICLEI South Asia report.
A hard copy of the Annual Report can be requested by writing to us at:
iclei-southasia@ iclei.org