Stakeholders Gather for the First Talanoa Dialogue in India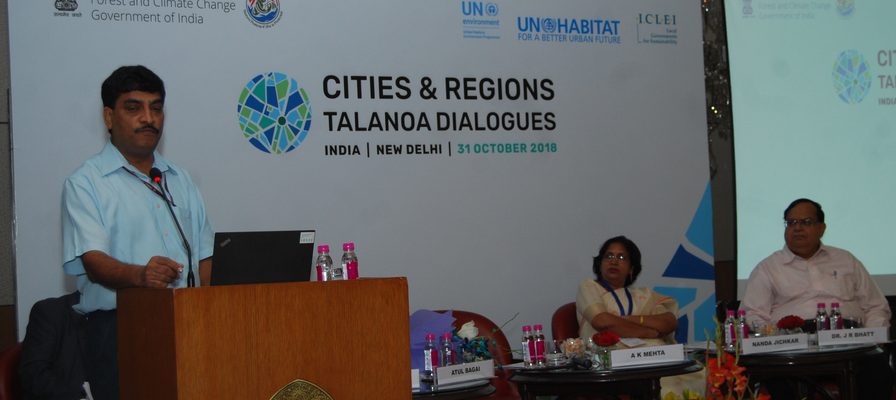 The Ministry of Environment, Forest & Climate Change (MoEFCC) Government of India and ICLEI South Asia jointly organised the Cities and Regions Talanoa Dialogue workshop in New Delhi.
The one-day workshop brought together stakeholders from governments, academia, international community, private sector and civil society with an aim to strengthen aspects of multi-level governance to enable accelerated and effective on-ground action aimed at achieving NDC commitments.
"It gives me immense pleasure to facilitate the Talanoa Dialogue in India and bring stakeholders from such diverse backgrounds under one roof to discuss our commitment to achieving India's NDC. The active engagement of the participants has given me confidence that we are on the right track to meet the goals of the Paris Agreement," said Mr. Emani Kumar, Executive Director, ICLEI South Asia.
ICLEI – Local Governments for Sustainability is supporting the Talanoa Dialogue – a United Nations (UN) process to take stock of climate action and commitments around the globe. The aim of the initiative is to inspire more ambitious national plans needed to achieve the goals of the Paris Agreement. The Presidencies are encouraging Parties and non-Party stakeholders to cooperate in convening local, national, regional or global events in support of the Talanoa Dialogue.
"Talanoa is about the spirit of camaraderie and we feel the spirit of friendliness here. I believe when these dialogues are held in India, they should be captured and presented as our country has great stories. We are also a nation which treats nature as god. Sustainability is a part of our culture," said Mr. A K Mehta, Additional Secretary, MoEFCC.
"We should take a note of 1.5C IPCC report not with skepticism but with a sense of action on climate now and like yesterday," he added.
Speaking on the occasion, Ms. Nanda Jhichkar, Hon'ble Mayor of Nagpur said the city's temperature is generally hot and that should be an advantage for them to use solar energy.
"My mission is to have every household in Nagpur use solar energy. We are also planning to use it for our upcoming metro rail".
The outcomes of this event would feed into the global submission which subsequently will be communicated to UNFCCC by ICLEI in its capacity as LGMA (Local and Regional Governments and Municipal Authorities) focal point.