Steering Mandi and Dharamsala towards the path of resilience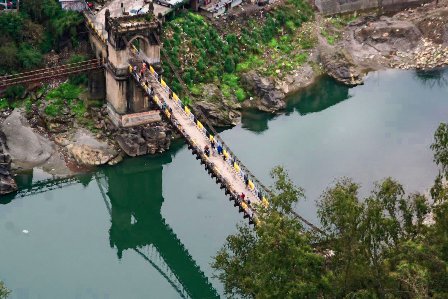 Cities from the north-west region of India, Mandi and Dharamsala have now begun their journey of building resilience and taking action against the impacts of climate change through the introduction of the Asian Cities Climate Change Resilience Network project. A kick-off meeting and a series of introductory meetings had been organised by ICLEI South Asia, which aimed at presenting the Asian Cities Climate Change Resilience Network (ACCCRN) project and briefly introducing the ICLEI ACCCRN Process (IAP), a toolkit developed by ICLEI with support from the Rockefeller Foundation. The meetings were attended by key officials from various departments of the Urban Local Bodies (ULBs) of the two cities. The availability and access to studies and data related to climate change impacts and vulnerability, several urban systems and the city and area development plans were also discussed. As an outcome of the meetings, both cities selected the project nodal officer, formed a draft core committee and a preliminary draft stakeholders committee.
Both, Mandi and Dharamsala are experiencing changes in the overall climate (temperature and rainfall patterns) and subsequent impacts to their urban systems. The ACCCRN project will help them to develop Climate Resilience Strategies to deal with such situations, which can further lead to identification of prioritised projects and financing of such initiatives.
A launching workshop and the first Shared Learning Dialogue (SLD) was organised by the Mandi Municipal Council on 15 July 2014 which was attended by key officials from various departments of the above mentioned ULBs, the citizens' representatives, other potential stakeholders and the media representatives. Identification of key areas which have already been impacted by various reasons other than climate change and how those impacts can be aggravated by climate change was recognised as the key concern by the participants. Solid waste management, sewerage & storm water drainage, ecosystem, transport and urban planning were identified as the fragile urban systems for both the cities.
For further information on the South Asian activities of the ACCCRN project, visit:
http://southasia.iclei.org/our-goals/resilient-city/asian-cities-climate-change-resilience-network-acccrn/