Support offered by ICLEI South Asia in Udaipur and Ludhiana under Shakti Smart Cities – Phase II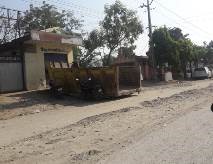 ICLEI South Asia under the project "Supporting Sustainable Urban Transport & Built Environment in four Smart Cities in India" is assisting Udaipur Municipal Corporation in various activities like introducing a Public Bike Sharing scheme in the city, developing Smart Janpath road and intersection improvement of Kumharon ka Bhatta.
Recently, ICLEI South Asia project team discussed the PBS details for Udaipur which included the approach for introducing PBS in Udaipur, status of existing bicycle scenario in the city, potential challenges and benefits w.r.t the city, international and national case examples, what and how the PBS system works, various components of the PBS system, ideal locations for putting up docking stations, institutional framework to bring in the system in the city, type of charges and deposits, proposed maintenance scheduling for the cycles, communication and outreach etc.
On the Municipal Corporation's suggestions, the ICLEI South Asia team is now in talks with three private agencies namely Ola, Tech Mahindra (the ITS integrator for Smart City, Udaipur), and MYBYK- a bike share company who are interested to operationalise PBS in the city. The project team is also preparing a draft guiding document for initiation of PBS in the city by the interested private parties. The primary objective of this document is to provide the guidelines, direction and terms and conditions to private parties for PBS operations in the city.

Secondly, ICLEI South Asia along with EPTISA – the PMC for Smart City projects, is assisting Municipal Corporation Udaipur in improving and developing the Sukher- Amberi Road into a world class smart road. ICLEI South Asia team is working with the engineering section and has asked for the drawing of the road section. ICLEI South Asia's team recently had the meeting with the consultant who is helping our project team with the details of the required components to be covered in the survey drawings.
Site photographs of Sukher- Amberi Road
Intersection Improvements at Kumharon ka Bhatta
ICLEI South Asia is also assisting the Municipal Corporation of Udaipur in improving the traffic flow and circulation at Kumharon ka Bhatta, one of the important intersections on the east-west corridor of the city, connecting major institutional area. The ICLEI South Asia project team is helping them in finding the solution on the verge of successfully operating Surjapole Junction (a joint pilot exercise carried out by MCU and Traffic Police, Udaipur in 2016 on the solutions and interventions conceived by ICLEI- South Asia, soon going to be the permanent fixture).
Besides the above, ICLEI South Asia recently assisted Ludhiana Municipal Corporation by providing assistance in developing a proposal for Department of Heavy Industries, Government of India for procuring electric vehicles for the city. The objective behind this was to assist the city in availing the funds being provided by Department of Heavy Industries and to control vehicular emissions and mitigate adverse environmental impacts in the city.