Technical review of the pilot projects implemented under AdoptIUWM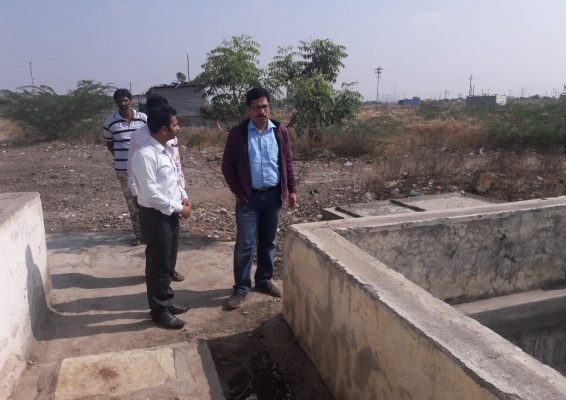 An external review was conducted by professor V. Srinivas Chary, Director of Centre for Energy, Environment, Urban Governance and Infrastructure Development at Administrative Staff Collage of India, Hyderabad (ASCI), in Solapur and Ichalkranji (Maharashtra) and Kishangarh (Rajasthan) in December, 2017.
During his visit, Dr. Chary interacted with various stakeholders in the city including officials of the local government, political leaders, representatives of institutes, NGOs along with pilot project consultants and contractors. The discussion was focused on AdoptIUWM project, capacity building among stakeholders and way forward through different initiatives, schemes and missions.
The team visited pilot project sites – Solapur and Ichalkaranji in Maharashtra. In Solapur, there is Neelam Nagar pilot project on recharge of abaondoned bore well and Kumthe pilot project on revival of community borewell. In Ichalkaranji, Rajiv Gandhi slum is the pilot site for a project on closing the urban water loo p in a slum review.
Interaction with pilot project beneficiaries highlighted the need for such projects, and its efficient operation and maintenance. Team requested city officials to maintain, replicate and scale up these initiatives for water sustainability in the future.
Officials from both the cities informed various initiatives proposed under Smart Cities Mission and AMRUT related to urban water cycle.
In Kishangarh, he interacted with the Municipal team working under door to door waste management pilot project in the two wards (ward no 17 and 28) and the local residents, he encouraged the team for their efforts and good work. He met the City Sanitary Inspector and Municipal Engineers working on Swachh Bharat Mission to discuss the present status of the city on solid waste and sanitation and the importance of the pilot projects implemented in the city.
He also discussed the components of Swachh Survekshan 2018 launched to assess sanitation in Indian cities and helped the engineers to work efficiently on the important components.
Dr. Chary visited the site for pilot project on integration across sectors in School Complex in Raja Reddy and interacted with the students and teachers in the school.
Meeting in Jaipur, Rajasthan under Integrated Urban Water Management Planning and Implementation in Kishangarh

A state level meeting was conducted on the 20th of December, 2017 at Department of Local Bodies (DLB) Jaipur to update the state departments about activities and initiatives implemented under the project Integrated Urban Water Management Planning and Implementation a project funded by GWP and implemented by ICLEI South Asia and IWP in Kishangarh city.
Mr. Shivraj Singh Poonia, Executive Engineer, Local Self Government Department (Directorate Local Bodies, Rajasthan),Dr. Himani Tiwari, Coordinator, CMA, Rajasthan, Mr. Mangla Rai, Senior Research Associate, IWP and Ms. Geeta Sandal, Senior Project Officer Sustainability Management, ICLEI South Asia attended the meeting.
ICLEI South Asia updated the officials on various activities implemented under the project and informed them activities planned for year two. A concept note was also shared regarding the year two activities. Mr. Pooniya also suggested linking the project with Mukhya Mantri Jal Swavlamban Abhiyan (MJSA) as water conservation and water harvesting related activities, implementation of works through people's participation and capacity building are some of the objectives.
Ms. Tiwari ensured her support to the project and suggested that activities should cover objectives of Swachh Bharat Mission on training need assessment and IEC activities. The officials praised the efforts and initiatives implemented under the project and requested to upscale the activities to other cities in Rajasthan.