Swiss Minister Inaugurates Biomethanation Plant in Coimbatore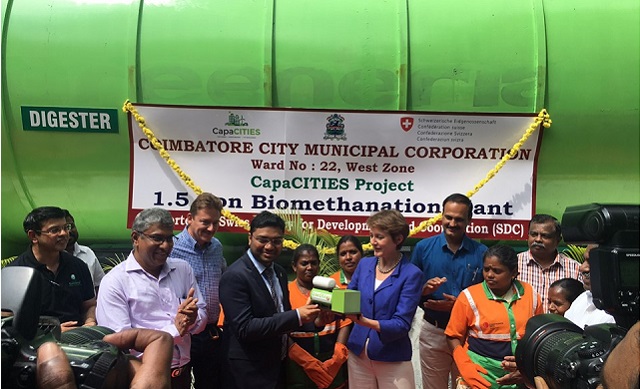 Vice President of the Federal Council and Minister for Environment, Transport, Energy and Communication, Switzerland, Ms. Simonetta Sommaruga visited Coimbatore, Tamil Nadu, in October as part of her India visit, focusing on areas concerning clean technology and the railways.
During her visit to the city, Ms. Sommaruga inaugurated a biomethanation facility in the city, built under the Swiss Agency for Development and Cooperation (SDC) supported CapaCITIES project. During site visits and in her interactions with City officials and residents she witnessed and discussed the various initiatives undertaken in the project.
Ambassador of Switzerland to India and Bhutan, His Excellency Dr. Andreas Baum, Deputy Head of Mission Ms. Tamara Mona, Head of Swiss Development Cooperation Ms. Marylaure Crettaz and Senior Thematic Advisor and project in-charge Ms. Sakshi Chadha Dasgputa, were also part of the visiting delegation, besides other SDC officials and the business and media delegations from Switzerland who accompanied the Minister.
Ms. Sommaruga had a meeting with Coimbatore Commissioner Mr. J Sravan Kumar and other officials, in which she was briefed on the functions of the Coimbatore City Municipal Corporation (CCMC) and key projects such as the Smart Cities Mission. Mr. Kumar explained the sharing of finances by the state and central governments and the CCMC's contribution to various projects under the Smart City Mission.
The meeting was followed by a visit to Singanallur Lake to discuss the CapaCITIES project work in water management and lake quality improvement with the stakeholders.
The Coimbatore Commissioner and the Project Management Consultant – Smart City Mission team made a presentation on Coimbatore City Urban Initiatives under the Smart Cities Mission. The team showcased completed and ongoing projects and their impact on environmental sustainability. The technical support extended by the CapaCITIES project to prepare Coimbatore's climate resilient city action plan, develop technical assessment reports in the fields of solid waste management, treatment of lake waters and enhancing the efficiency and ensuring complete coverage of waste water treatment were highlighted.
An overview of the city lakes and their significance was shared with Ms. Sommaruga. In interactions with local biodiversity experts and group involved in the rejuvenation of lakes, she learnt of Coimbatore's ambition to enhance local biodiversity, especially in and around the lakes. She also interacted with a group of students who were participating in a tree plantation drive around the lake.
Meeting with local stakeholders, women's groups and the Swachh Ambassador from the city who are involved in the on-ground implementation of the CapaCITIES SUNYA project, she commended them on the impact their efforts were creating and encouraged them to continue their engagement in the sector and with the project. City officials and the CapaCITIES project team explained to her the solid waste management and SUNYA activities being carried out in Coimbatore.