Workshop for Udaipur Anganwadi Workers Promotes ITC Practices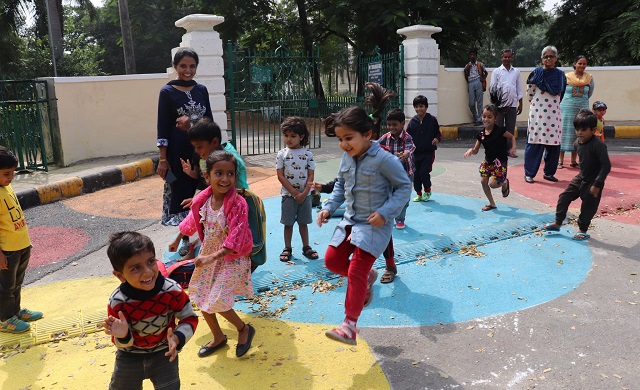 Udaipur city hosted a two-day training workshop in October, in association with the Udaipur Municipal Corporation (UMC) and Integrated Child Development Services (ICDS), to acknowledge the role of anganwadi (infant and toddler care centre) workers in the Urban95 programme. The workshop covered all 'urban' anganwadi workers in the city who oversee anganwadis and play an important role in making the city Infant-Toddler-Child (ITC) friendly.
ICLEI South Asia is the technical partner in the Urban95 programme, which is being implemented by UMC and Bernard Van Leer Foundation (BVLF).
The Anganwadi Training Programme, attended by more than 100 participants, aimed to provide a comprehensive understanding of the significance of early childhood years through the Urban95 lens, which means looking at urban experiences from the perspective of young children. A specific module was prepared and used as a guiding resource for the workshop to orient and train the anganwadi supervisors and workers (ASW) working under ICDS functionaries at the city level. The training was specifically aimed at involving the ASWs, as they are at the forefront in delivering quality early childhood development (ECD) and early childhood care and education (ECCE) services under ICDS.
The purpose of the training programme was manifold. It aimed to help the ASWs understand the significance of early stimulation, appropriate health and nutrition and nurturing care and development for children; create innovative pedagogical approaches and content with a view to promote optimal growth & development of young children, especially those in the age groups of 0-3 years and 4-6 years; and reach out to parents and community members through ASWs to participate in the functioning of the anganwadis to promote a stimulating early learning environment for young children in their homes as well.
The participants appreciated the content and methodology of the training workshop, which also spread awareness about the Urban95 programme's implementation in the city. UMC decision makers and the Urban95 project team said they looked forward to organising similar training workshops in the near future.