Swiss, National Experts Share Ideas on Best Practices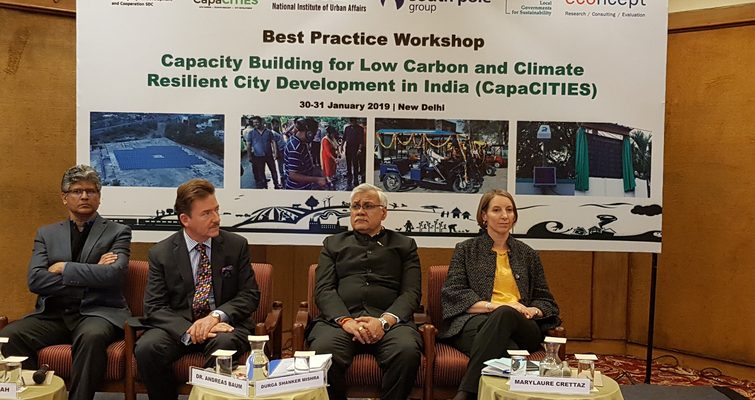 Under the Swiss Agency for Development and Cooperation (SDC) supported CapaCITIES project, a Best Practice Workshop was organised by the National Institute of Urban Affairs (NIUA) with support from ICLEI South Asia on the 30th and 31st of January in New Delhi.
The workshop addressed good practices on integrating climate measures in urban planning and development. It presented the climate resilient action plans on building resilience in water, waste and transport sectors. It also showcased national and international good practices on climate resilient development and discussed financing of projects. Various Swiss and National Experts, involved with the CapaCITIES project also shared their knowledge and expertise.
Dr. Andreas Baum, Ambassador to India and Bhutan, Embassy of Switzerland in India congratulated the cities for their efforts in implementing the CapaCITIES project in his special address. This was followed by an inaugural address by Mr. Durga Shanker Mishra, Secretary, Ministry of Housing and Urban Affairs (MoHUA), Government of India." Today, India's growth story is resonating and being admired across the world. The rapid urbanisation anchored in the flagship missions under MoHUA, particularly the Smart Cities Mission, are making a significant contribution to this transformational change. Our cities are engines of growth. People are migrating from rural areas to cities and from smaller towns to larger cities in search of employment, economic, educational and other opportunities for improving quality of lives. It is thus important that we are able to build cities of the future that offer ease of living and opportunities to realise full potential to its citizens. Sharing experiences helps in propagating good ideas in making our cities for the people," Mr. Mishra said in his speech.
The workshop witnessed discussions on various issues like Benefits of Climate Action Planning, Integrated Solid Waste Management and Link to Climate Action, State of Integrated Solid Waste Management, Implementing and Financing Low Carbon Actions, Building Climate Resilience through Integrated Water Resource Management, GHG Mitigation through Sustainable Transport Initiatives to name a few.
Government officials from different cities across India, stakeholders and sector experts participated in the two-day workshop and exchanged ideas which would help benefit their cities, based on the experiences shared by Swiss as well as Indian cities. The workshop also provided an opportunity for peer to peer interaction between the city officials, enabling them to learn and collaborate with each other.
The workshop concluded with a site visit to the GPRA complex in Moti Bagh. The participants were explained the functioning of sustainable initiatives, within the complex, like solid waste management, waste water management, solar energy powered street lighting, solar energy powered water heating, rain water harvesting and green cover maintenance.