Thane wins "National Earth Hour Capital 2015" title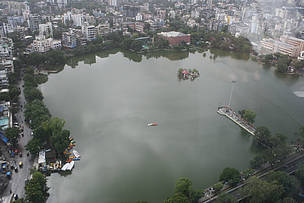 At the Earth Hour City Challenge award ceremony in Seoul, Korea on the 9th April 2015, Thane was announced as India's National Earth Hour Capital 2015, with Seoul winning the title of the Global Earth Hour Capital.
After a rigorous exercise of deliberating and assessing the sustainable activities reported by the finalist cities under the Earth Hour City Challenge (EHCC), an expert jury panel has declared Thane as the winning sustainable city from India this year, recognizing the city's focused actions on aggressive renewable energy targets, energy efficiency and multiple solar energy projects. Thane succeeds Coimbatore, which was the National Earth Hour Capital for the year 2014.
This global challenge called the Earth Hour City Challenge mobilizes action and support from cities. WWF works closely with ICLEI – Local Governments for Sustainability, in mobilizing cities to join the challenge. The challenge felicitates and awards initiatives by cities for their climate resilient actions to stimulate best practices for footprint reduction. The platform also aims at inspiring and supporting cities to become solution hotspots for building sustainable cities.
Thane's impressive ambitious community commitments for renewable energy and energy efficiency have been the key motivations in winning them this title. It has also shown a strong focus on reducing emissions from buildings and curbing traffic congestion. Some of the notable actions of Thane include the mandatory use of solar water heating system for municipal buildings and the implementation of other solutions such as wind-solar hybrid systems, solar PV for lighting & air-conditioning. Besides, solar roof top net metering based power generation and regular energy audits have also been planned. Other actions include implementation of ESCO (Energy Service Company) project for energy efficient street lighting, commissioning of 15T capacity Bio-Methanation plant to treat municipal solid waste to produce electricity and three cyclic switching units for streetlights usage optimization. An implementation target for development of solar city project in five years period has been set with an objective to meet at least five per cent energy consumption from renewable energy on completion of the solar city project in Thane.
The three finalists from India included Thane, Rajkot and Pune. Pune also received a special mention from the jury for its city mobility plan as well as its solar and waste to energy initiatives.
On the occasion, Mayor, Thane remarked, "It gives us immense pride in learning about Thane's selection as the National Earth Hour Capital. Thane has always been at the forefront of various sustainable initiatives, be it at the solar energy front or the energy efficiency front. We are happy that WWF & ICLEI have recognized the city's sustainable actions through the Earth Hour City Challenge and we hope to continue implementing and mainstreaming low-carbon focused actions."
For more information on EHCC's South Asian activities, click here.