Urban Nexus: Mongolian delegates visit Nagpur for knowledge exchange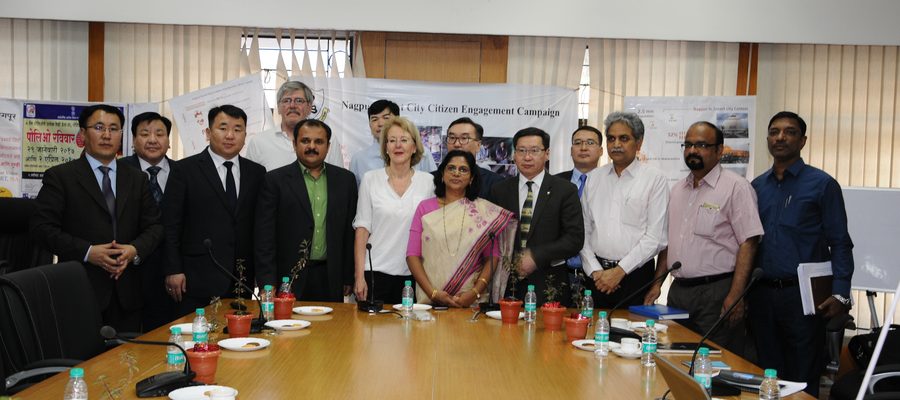 In a peer-to-peer learning event recently organised in Nagpur under "Integrated Resource Management in Asian Cities: the Urban Nexus" project, delegates from Mongolia – along with the Regional GIZ Urban Nexus team – visited the city to know more about its developments and pioneering initiatives. The project is being implemented by the Deutsche Gesellschaft für Internationale Zusammenarbeit (GIZ) and financed by the German Federal Ministry of Economic Cooperation and Development (BMZ). The visit to Nagpur was organised by Nagpur Municipal Corporation with the support from ICLEI South Asia.
As a part of the project one of whose objectives is to promote regional exchange and dissemination of successful practical approaches to integrated resource management through networking among the Nexus cities, the city of Ulaanbataar had expressed its inclination to visit Nagpur and learn from its various initiatives.
The delegation was welcomed by the honourable Mayor of Nagpur Ms. Nanda Sharad Jichkar, Commissioner Mr. Shravan Hardikar and Additional Commissioner Dr. Ramnath Sonawane. During the three-day event, the delegation visited National Environmental Engineering Research Institute (NEERI), made visits to the Smart Strip being developed under the Smart City Mission, visited the upcoming wastewater treatment plant and held discussions with the relevant officials. The discussion primarily focused on the pioneering initiative of the city to reuse and recycle the treated wastewater in a power plant in Nagpur. By using treated water for power plants, additional potable water will be made available to the people for drinking and agricultural purposes in Nagpur. The delegation also visited the wards where 24* 7 water is being supplied another initiative by Nagpur Municipal Corporation.
Further, the Commissioner also presented Smart City project development and showcased how the project was citizen-oriented and involved more than 11,000 households. The delegation was impressed by the takeaways of the visit and the discussions.
The delegation comprised of six officials from the National government of Mongolia as well as the city government of Ulaanbataar and was led by Mr. T.Gantumur, General Manager & Head of Mayor's Office, Ulaanbataar. Ms. Ruth Erlbeck, Mr. Ralph Trosse and Mr S. Tserendash represented Regional GIZ Urban Nexus team.