Walking the talk with Deputy Mayor of Shimla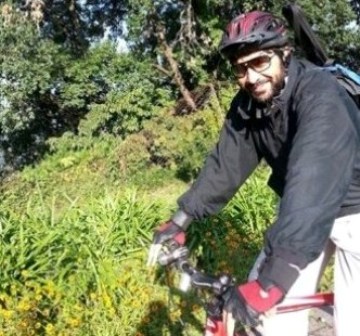 "People used to think I am crazy, they used to ridicule the notion of cycling. Now there is a cycling club called ICE – Initiative for Cycling Enthusiasts – that counts over 100 members!", says Mr. Tikender Singh Panwar, Deputy Mayor of Shimla, who is a cycling enthusiast.
Home to the legendary mountain biking race, MTB Himalaya, Shimla is the capital city of Himachal Pradesh located in the south-western ranges of the Himalayas. Mayor Sanjay Chauhan and Deputy Mayor Tikender Singh Panwar have been continuously working towards making Shimla an environment-friendly city, which is part of several ICLEI South Asia's projects, such as ACCCRN, SUNYA , EHCC and Urban LEDS.
Mr. Panwar was a lone rider when he first started cycling to work; people were initially hesitant to the idea of riding a bicycle on hilly roads. However, his strong belief in the multiple benefits of cycling, combined with his deep enthusiasm, has brought about positive changes in cycling trends in Shimla : through the club, cycling events are regularly hosted with participants of all ages and sex; the number of people cycling to work has considerably increased and there is an increased demand for cycle stands and cycle tracks in the city on the road. "I feel we have a duty, as politicians, to set an example for our citizens and be the first ones to behave in a more sustainable way." commented Mr. Panwar. His story is an inspiration for many: it is such initiatives that can turn the outlook of plenty and lay the path for sustainability.
Transform your ideas into actions, take the lead and change will follow!