WHO Collaborating Centre launches online courses on water and sanitation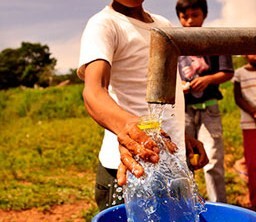 It is well known that water treatment at household level can lead to dramatic improvements in drinking water quality. But does Household Water Treatment and Safe Storage (HWTS) also have a global relevance? What are the potential solution methods and how do they function? Is there a standard strategy for successful HWTS-implementation or can we identify key components which make programs more likely to succeed?
Aiming towards answering these and many more questions, Eawag/Sandec, the WHO Collaborating Centre for Sanitation and Water in Developing Countries, is launching a new Massive Open Online Course (MOOC) series on water and sanitation in developing countries in collaboration with the Swiss university EPFL. The first installment in the series, "Introduction to Household Water Treatment and Safe Storage (HWTS)" will start on 7 April 2014 and run for five weeks.
In this course, you will learn about the public health impacts of unsafe drinking water and about different methods to treat water at household level. The course also takes a closer look at the roles of different stakeholders, such as governments, private sector, and NGOs.
How can HWTS reach the most vulnerable populations at scale? And how can the impact of HWTS be measured? The course will answer these questions with a series of concrete examples from Africa, Asia and Latin America.
For this course, all you need is an Internet connection, an interest in drinking water quality, and the time to read and discuss.
For registration and more information on the course, visit:
https://www.coursera.org/course/hwts