This project has now been concluded.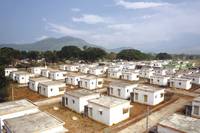 ICLEI South Asia Southern Center in Hyderbad is assisting the Resettlement & Rehabilitation Commissionerate (R&R) of the Ministry of Irrigation & CAD, Govt. of Andhra Pradesh, in developing infrastructure planning guidelines for their proposed R&R Colonies. This Commissionerate is responsible for monitoring and enabling the process of establishing R&R colonies for families displaced due to execution of irrigation projects.
"Guidelines for Infrastructure Development / Basic Amenities for R&R Colonies" prepared by ICLEI SA include aspects of conventional physical infrastructure (housing, watersupply, drainage, sewage, sanitation etc) and also prescribe guidelines for the inclusion of energy efficient and sustainable community based facilities – like the use of renewable energy (solar street lighting and home lighting systems), household and community based composting, social forestry, kitchen gardens, rainwater harvesting etc. These guidelines have redefined the hitherto conventional grid iron system of layout planning by suggesting cluster based planning and including community spaces, green areas, artisan centers, designated spaces for local markets etc.
Social infrastructure requirements including Anganwadi centers, socio-cultural facilities and educational facilities have also been proposed and related planning/design issues are also addressed.
The proposed guidelines are being circulated to all the district level irrigation project in-charges in Andhra Pradesh for thier suggestions and subsequent adoption.
Duration:
31 March, 09 – 31 March, 2011