ICLEI Member city Singra receives first Urban Resilience Award 2018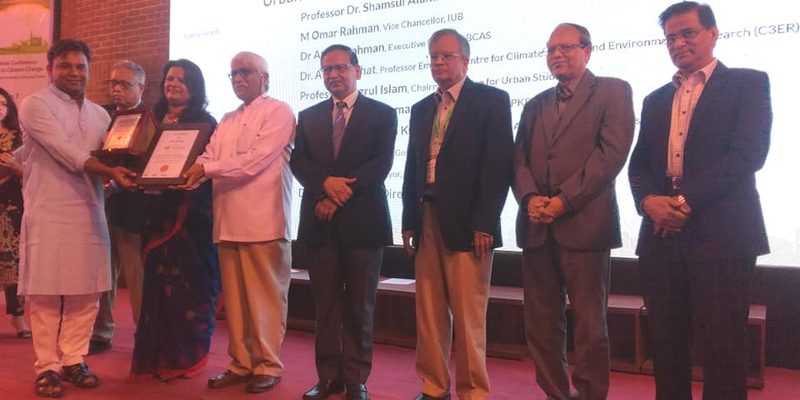 Singra Municipality of Bangladesh, a member of ICLEI, received the "Urban Resilience Award 2018", at the Third Annual National Conference on Urban Resilience to Climate Change, for its excellence in urban resilience and climate actions.

The conference is held every year since 2016, jointly organised by International Centre for Climate Change and Development (ICCCAD) at Independent University Bangladesh (IUB), Asian Cities Climate Change Resilience Network (ACCCRN) and Bangladesh Centre for Advanced (BCAS) and co-hosted by different NGOs and development partners working in this sector.
This is the first time the Urban Resilience Award has been introduced, aiming to recognise and encourage the cities and individuals working on climate change, to screen up and select the best activities based in and their contributions to building urban resilience at the local level.
"I am happy to receive this urban resilience award on behalf of Singra Municipality for taking various climate initiatives to make our city more resilient. I believe, this award will inspire all the municipalities to take more initiatives for building a climate resilient city," said Md. Zannatul Ferdous, Mayor of Singra Municipality.
Singra Municipality is not only recognized for taking up climate actions but also for promoting sustainable public transportation system within the municipality. Apart from the municipal owned initiatives – installation of solar street lights, other climate actions have been taken with the support from ICLEI South Asia through ICLEI ACCCRN Process, Urban LEDS II and electric mobility initiatives.
The municipality has previously also won the Transformative Urban Mobility Initiative award for promoting E-rickshaw as a public transport and health supporting service through its electric mobility project.