CapaCITIES: Udaipur set to promote e-rickshaws through pilot project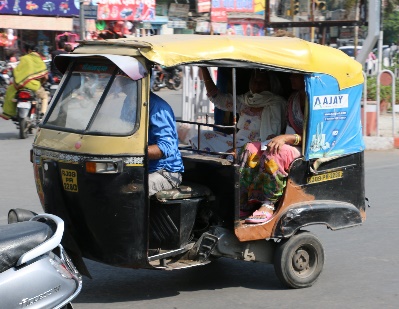 In absence of a robust public transport system in the Udaipur, intermediate public transport (IPT) caters to the need for mobility of citizens. IPT in Udaipur, a city in Rajasthan, India, consists of auto rickshaws running on diesel engines, which leads to high emissions and vehicular pollution. Vehicular pollution increases risks for various respiratory diseases and other health risks, which is a major public health concern across India's cities. As per the RTO (Regional Transport office) data, Udaipur had more than 6,313 auto rickshaws and 2,600 tempos in 2012, catering to the local mobility needs. The number of IPT is gradually increasing with time and over 40 per cent of auto rickshaws are more than 10 years old, substantially contributing to the city's pollution.
Apart from mobility, urban transport planning in Udaipur has to address numerous challenges: deteriorating air quality, rising greenhouse gas emissions, and adverse rising energy security risks. There is an increasing consensus among planners that a range of additional measures will be required, beyond the existing policies, to mitigate the adverse impacts of transport on these sustainability indicators. Electric vehicles (EVs) offer alternate mobility options that can help to redress these adverse impacts. In the above context, in March 2015, the Motor Vehicles (Amendment) Bill was cleared after establishing battery-powered e-rickshaws as a valid form of commercial transport.
Electric units could be the future of city's transport

In above scenario, Udaipur City Corporation plans to transform its IPT fleet by introducing e-rickshaws in the city and containing growth of diesel-based autos. The city is unique due to its terrain and user base and is keen to implement an initial pilot to develop its city wide deployment plan. Swiss Agency for Development and Cooperation (SDC) supported CapaCITIES project is offering to assist the city develop and conduct this pilot which will be launched on March 17, 2017.The results of pilot will be used to further scale up the e-rickshaw project in the city. The pilot project consists of operationalizing 18 electric rickshaws (load carrying and passenger carrying) to demonstrate the benefits of an e-rickshaw. Different variant/category of e-rickshaws have been procured under the pilot to evaluate performance and recommend feasible options to scale up. The pilot also tests the workability of advanced batteries such as Lithium ion.
The strategy to promote e-rickshaws is based on replacing over a longer term all conventional fossil fuel rickshaws (small, large as well as freight rickshaws) with electric units. The estimated GHG impact by 2030, considering the indirect emissions caused by electricity production in India, is around 70,000 tCO2, reduced or 27 percent lower GHG emissions than under BAU. The sustainable development impact is basically on improved air quality and reduced noise emissions valued at 1 MUSD as of 2030.
Overall, the pilot initiative by the CapaCITIES implementing team will assist city to collect information on conventional and e-rickshaws based on a pilot phase and thereafter develop a feasibility report for the three rickshaw types (four-seater, six-seater and freight). Depending on the outcome, it is envisaged to develop a city-wide action plan for IPT system for the city of Udaipur.