Coimbatore, Siliguri celebrate World Environment Day through CapaCITIES project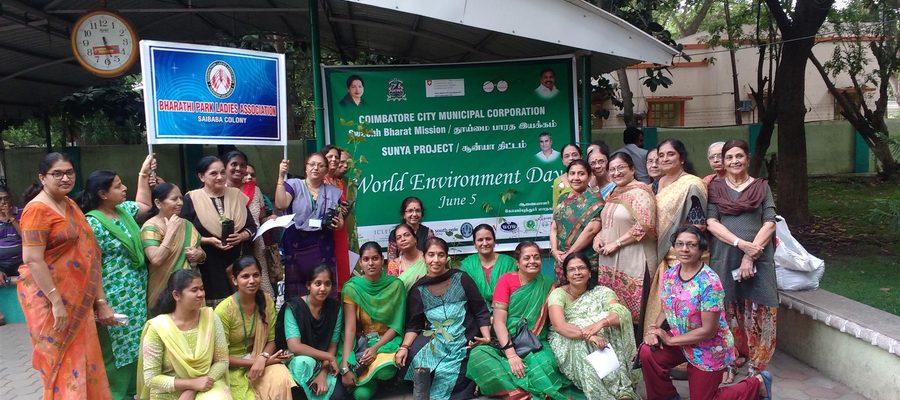 On the eve of World Environment Day, ICLEI South Asia organised a celebration program in Bharathi Park and Azad Road of wards 22 and 24 in Coimbatore. The event was held under the Swiss Agency for Development and Cooperation funded CapaCITIES – Sunya project.
The event was headed by Mr. S.V. Kumar, Assistant Commissioner, West Zone and Mr. R. Radhakrishnan, Zonal Sanitary Officer, West Zone. The participants were representatives from ICLEI South Asia, Bharathi Park Ladies Association (BPLA), Jawahar Nagar Ladies Association (JNLA), Centre for Environment Education (CEE) Chennai, E-Sree Foundation, Wealth Out of Waste (WOW), BOSCH and interns from Avinashilingam University.
In ward 22, Dr. Tina from JNLA gave a welcome speech which was followed by the pledge taking ceremony. She, along with the interns, also performed some traditional folk songs on environment along with folk dance. Moreover, an educational skit on 'Beat Plastic Pollution' was performed by the ITC-WOW team.
The presidential address was given by Mr. Kumar in both the wards. To mark this event, saplings and compost made from the segregated waste in the wards were distributed to the public.
Similarly in Siliguri, celebrations were organised in partnership with the CEE. Mr. Ashok Bhattacharya, the Hon'ble Mayor, released the CEE manual for schools on reduction of plastics.