Udaipur Roundtable Brainstorms on Way Forward for Climate-Resilient Action Plans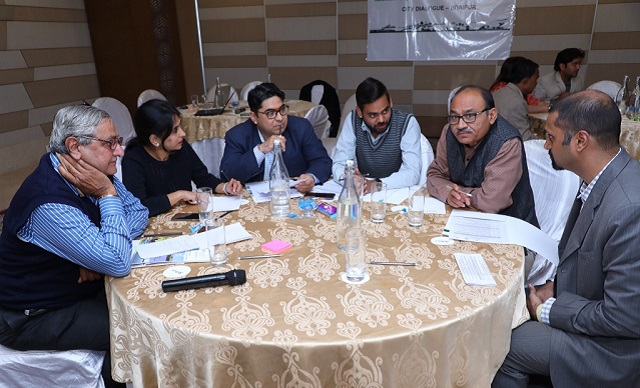 The National Institute of Urban Affairs (NIUA) organised a half-day event in Udaipur on 13th of December 2020 to showcase the activities done under the CapaCITIES project in the city and in the other three project cities of Siliguri, Coimbatore and Rajkot. The areas in which work should be done in the next phase of the project were also discussed.
The CapaCITIES project is supported by the Swiss Agency for Development and Cooperation (SDC), and is being implemented by a consortium comprising South Pole, ICLEI South Asia and econcept. Representatives from organisations working on urban climate resilience and several cities and states participated in the closed event in Udaipur, organised with acknowledgement from the Ministry of Housing and Urban Affairs (MoHUA), as part of actions towards building a national climate alliance.
The event was held to strengthen engagement with MoHUA to provide impetus to climate change-linked urban development; improve knowledge sharing and exchange of ideas amongst the various stakeholders; and provide focused and relevant support to the cities to prepare, finance and implement climate-resilient action plans.
Udaipur's newly elected Mayor Mr. Govind Singh Tank, who presided over the meeting, spoke about his vision for the city and on the importance of climate actions. Ms. Sakshi Chadha Dasgupta, Sr. Thematic Advisor, SDC, delivered the introductory remarks and spoke on the role of SDC and the CapaCITIES project. After that, Mr. Ankit Kumar Singh, Commissioner, Udaipur Municipal Corporation, discussed the city's growth strategy and the role of climate-resilient city action plans (CRCAP) and the CapaCITIES project. While the ICLEI team spoke on the lessons learnt from Phase-I of the project, Mr. Mehul Patwari, Director, Sustainable Finance, South Pole, shared his views on co-financing and bankable projects.
Among those who attended the event were Mr. Anand Iyer, Chief Project Manager, NIUA; Mr. Qummer Choudhary, CEO, Udaipur Smart City; Mr. Arun Vyas, Additional Chief Engineer, UMC; Mr. Mukesh Pujari, Superintending Engineer, UMC; various other government officials from town planning, water resources, Smart City and pollution control departments; and representatives from the Institute of Town Planners, India, universities and NGOs.
Four groups were formed for brainstorming on the four thematic areas of solid waste management, air quality and transport, water and wastewater management, besides other issues such as ecological solutions with reference to Udaipur. Key issues and potential solutions related to the thematic areas were discussed and presented by each group as the way forward for Phase-II of the CapaCITIES project.
It was envisaged by the group discussions that efficient running of the MSW disposal plants, particulate matter pollution (specially PM10), establishment of sustainable PT and IPT, water resource management, water pollution and losses due to water supply leakage are some of the identified challenges for the city.