Delhi University Experts Study Solapur Micro-Catchment Issues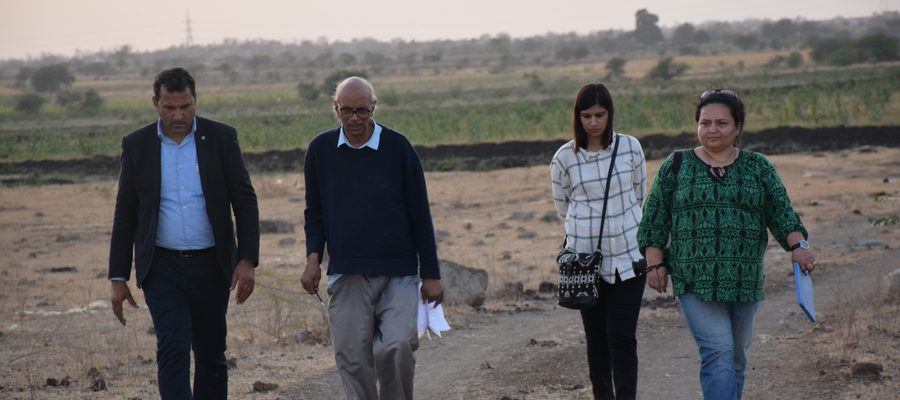 Experts from the University of Delhi made a field visit to the Solapur micro-catchment area on 26th and 27th February 2019. The visit was conducted under the aegis of the IAdapt project, supported by the International Development Research Centre, Canada.
Professor C. R. Babu, CEMDE, Department of Environmental Studies, Delhi University, and Dr. Vijay Kumar, Assistant Professor, Department of Zoology, Delhi University, visited Ekrukh lake, Tale Hippargh village and Haglur village within the micro-catchment area. They were accompanied by a team from ICLEI South Asia.
The aim of the visit was to understand the severity of the water pollution (quality and quantity) within the catchment area, identify potential sites for pilot implementation and to suggest the best possible technology to reduce the pollution in Ekrukh Lake.
Professor Babu, who is also Professor Emeritus and former Pro Vice-Chancellor, Delhi University, and Dr. Kumar interacted with local officials (gram sevaks) and the residents of Tale Hippargh and Haglur villages to understand the major issues they faced with regard to water.
They also visited major inlet and outlet points for water and wastewater at the lake. Three potential sites were identified around Ekrukh Lake for project implementation.
Professor Babu suggested that a constructed wetland (physical filters and bio filters) was the best possible solution for ecological rejuvenation of Ekrukh Lake. He also helped to identify some of the major issues affecting the quality and quantity of water in the Ekrukh micro-catchment area.