Documenting Goa Villages' Biodiversity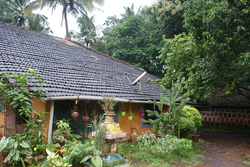 Continuing the work on development of People's Biodiversity Registers in 10 villages in Goa, the team from ICLEI South Asia conducted extensive biodiversity surveys in all the villages.
Through these surveys the biodiversity in these villages has been documented, along with traditional ecological knowledge associated with the various species.
Focus was also given on documentation of cultural practices with emphasis on nature. Change in lifestyle and in pattern of reliance on nature for day to day activities has also been documented in each of these villages.
The documentation in these 10 villages has been nearly completed and the final registers are being developed.
In appreciation of the quality of work and timeliness of completion of the same, Goa State Biodiversity Board has assigned the work of developing PBRs for 10 more villages in Goa to ICLEI South Asia. The new villages are:
Latambarcem
Neura
Molem
Narao
Carambolim
Poriem
Pissurlem
Mayem Vaigini
Naragoa
Mulgao