EcoLogistics Team Commence City Assessment Visits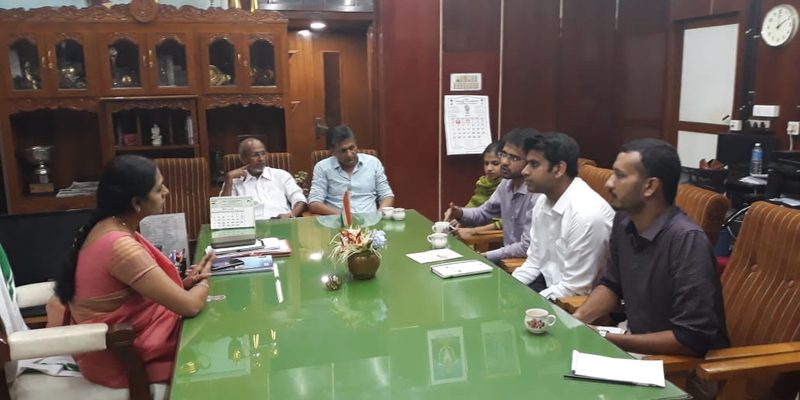 EcoLogistics – Low Carbon Freight for Sustainable Cities project team commenced city assessment visits to Panaji, Kochi and Shimla to initiate project activities. The project is supported by the Federal Ministry for the Environment, Nature Conservation and Nuclear Safety (BMU).
The two-day visit to each city was carried to interact closely with the local governments in cities along with other stakeholders such as Road Transport Officer (RTO), Traffic Police, Town Planning Department, Private Trucker's Association, Industry Association as well as trade representatives.
The agenda for the visit was to assess the current situation as well as develop a deeper understanding of issues related to urban freight in three project cities.
In Panaji, the team interacted with Mr. Ajit Roy, IAS, Commissioner, City Corporation of Panaji, Chief Town Planner, Goa, Deputy Superintendent of Police (Traffic), along with Fisherman's Co-operative Society and truck owners. The city is experiencing high share of freight vehicles due to large number of tourists in the city which increases the consumption of various goods and services.
In Kochi, a meetings with Hon'ble Mayor Smt. Soumini Jain, Kochi Municipal Corporation, Town Planning Department, Road Transport Officer, Traffic Police, and representative from freight companies such as Transport Corporation of India (TCI) were held. It was discussed that Kochi has high concentration of retail warehouse within core city which increases congestion during peak hours. Additionally, Kochi Port also generates through traffic of freight trucks.
Similarly in Shimla, meetings with Mr. Pankaj Rai, Commissioner, Shimla Municipal Corporation, and representatives from Himachal Road Transport Corporation, Road Transport Officer, State Public Work Department (PWD), Market Association and Freight distribution companies were held.

It was noted that due to the hilly terrain, goods movement is a challenge for the city authority. Currently, for last mile delivery of goods in areas such as Mall Road, people are dependent on manual porters who carry luggage up to 100 Kg. One of the concerns raised during the meeting was providing better working conditions for the porters without compromising on their livelihood opportunities.
Based on data collection, the next step under the project is to formulate baseline assessment of freight sector in all three cities. The baseline will assist project team in calculating the emissions from urban freight of the city and developing a Low Carbon Action Plan based on the same and pilot projects. The action plan will be followed by identification of pilot projects.
Mr. Himanshu Raj, ICLEI World Secretariat and Mr. Vijay Saini, ICLEI South Asia were part of the project team. ICLEI South Asia's Mr. Narender Kumar Nain was part of the Shimla meetings and Mr. Sooraj Earath were part of the Kochi meetings respectively.