First steps taken on path towards greener pilgrimage cities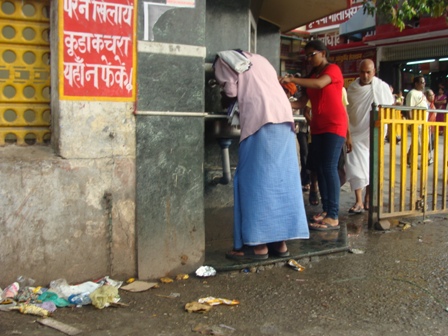 With a first visit of ICLEI South Asia staff to Rishikesh, Old Goa and Ujjain, the activities of the 'Green Pilgrimage Network – Indian Chapter' have now concrete started.
Launched in Hyderabad in October 2012 by ICLEI South Asia and the Alliance of Religions & Conservation (ARC) with the support of the Greater Hyderabad Municipal Corporation (GHMC), the initiative aims to help different faiths make their holy cities and sacred sites as environmentally sustainable as possible, based on their own beliefs and conviction. The Indian Chapter is part of the larger Green Pilgrimage Network (GPN) program, developed by ARC, the WWF and ICLEI – Local Governments for Sustainability, a new global network of green pilgrim cities and sacred sites of all faiths.
The response and endeavour shown by city and pilgrimage site authorities has been so encouraging that ICLEI South Asia has drafted a plan of action till the end of the year to take this initiative ahead:
• An environmental assessment in terms of water, sanitation, ecology, energy etc. in the pilgrimage cities or sites
• Preparation of an action plan based on the assessment
• Development of a financial opportunity report or guidebook to take up on ground implementation work as per the action plan
City profiles will be created for holy places of different faiths such as:
• Hindu: Rishikesh and Muni Ki Reti, Ujjain
• Muslim: Nizamuddin Area
• Buddhist: Ladakh
• Christian: Old Goa
• Sikh: Nanded