Government of India releases manual on municipal solid waste management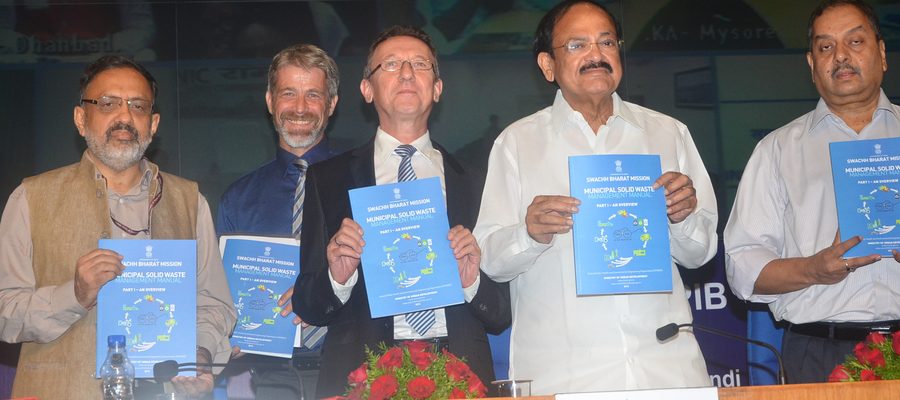 The Minister of Urban Development Shri M Venkaiah Naidu launched the revised CPHEEO Manual on Municipal Solid Waste Management, while inaugurating the Swachh Survekshan 2017 in New Delhi, on 6 August, 2016.
ICLEI South Asia was involved as the national technical expert in revising the first version of the manual. The Deutsche Gesellschaft für Internationale Zusammenarbeit (GIZ) GmbH (India) commissioned and supported this endeavour. A national level expert team, constituted by the Ministry of Urban Development for this purpose, and other international experts steered the revision process and provided critical inputs.
The Manual will serve as a guiding tool for cities, enabling them to plan and scientifically manage municipal solid waste in consonance with the recently amended Municipal Solid Waste (Management & Handling) Rules, 2016. The Manual aims at guiding all cities towards sustainable solid waste management by addressing suitable measures for waste minimization at source, with an emphasis on the principles of 3R: Reduce, Reuse and Recycle. Systems for segregation, collection, transportation, processing, treatment and disposal of waste are detailed out in the manual.
Part I of the Manual provides decision makers, elected representatives and senior officials with an overview of the key issues while Part II addresses technical, institutional, financial and managerial aspects of Municipal Solid Waste Management (MSWM). Part III provides a compendium of related Rules, international best practices and other detailed technical guidance. It is envisaged that the Manual will guide the cities in achieving the goal of Swachch Bharat Mission, to ensure 100 percent collection and scientific disposal of municipal solid waste.