Towards building resilience: vulnerability assessment and ground-truthing in Kurseong and Gangtok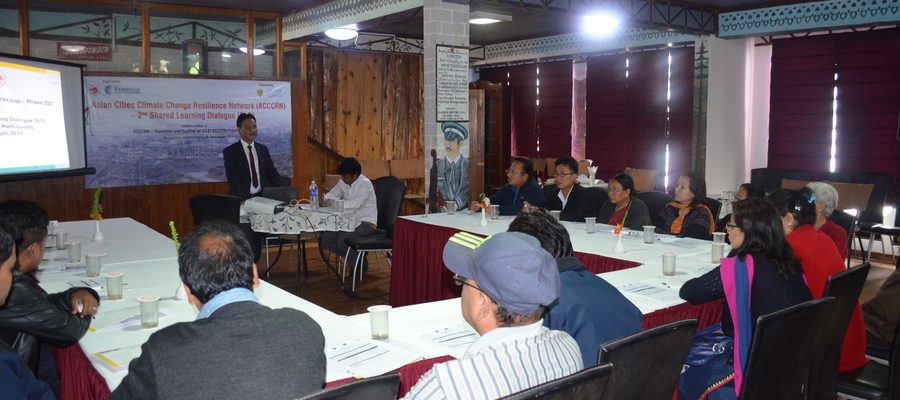 ICLEI South Asia in collaboration with the Kurseong Municipality (KM) and Gangtok Municipal Corporation (GMC), in April this year, organised the 2nd Shared Learning Dialogue (SLD) workshops under Asian Cities Climate Change Resilience Network (ACCCRN) project supported by Rockefeller Foundation, in the respective cities.
ICLEI South Asia team facilitated the workshop to undertake the vulnerability assessment due to climate change which includes identification of the vulnerable places and people, understanding adaptive capacities of the urban systems of both the cities.
In the workshop, the previously identified stakeholder expert groups took an active participation in the several discussion and group exercises. The team presented the outcomes of the earlier workshop and refined again through a validation process among the stakeholder group.
Mr. Samir Dip Blon, honourable Chairman of Kurseong Municipality pointed out that "in this project, ICLEI South Asia is not only helping Kuresong Municipality to develop the Climate Resilience Strategy but also developing our and our staff's capacity on several issues related to climate change and how to deal with this".
Meanwhile,Mr. Shakti Chawdhury, honourable mayor of Gangtok Municipal Corporation (GMC) urged that "if ICLEI South Asia approves the proposal on the installation of the Organic Waste Composter (OWC) at the Kunchanga Market for the pilot project under Small Grant Programme ,then it would be a great help for the city as the success of the project can be showcased and replicated to at least the big and medium size hotels of the city, which will reduce the quantity of the waste going to the landfill site, keep the drains clean and eventually reduce the financial burden of the GMC".
In addition to the SLD workshop, a ground-truthing exercise was conducted to validate the ground situation regarding several fragile urban systems that were highlighted in the worskshop as posing a high risk to the resilience of the city. In this exercise, a site visit was conducted to the most vulnerable wards and places, followed by a Focus Group Discussion (FGD) with the community to know and examine the problem criticality.
For Kurseong, such fragile urban systems that pose high risk were identified as: drainage, water supply and solid waste management, whereas for Gangtok the systems that could pose high risk were water supply, drainage and transportation. According to Mrs. L. Bhutia, councillor of ward No. 17, rapid urbanization was making the situation worse in the city and issues were growing as the number of buildings is increasing'.