Hetauda bags the award for the cleanest city of Nepal 2014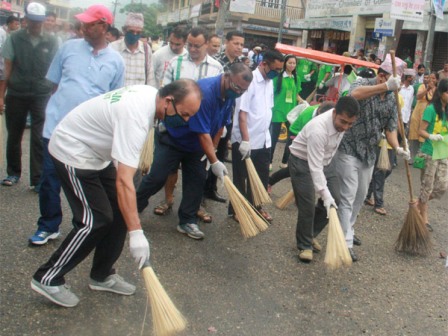 ICLEI member city Hetauda was declared the cleanest city of Nepal for 2014 by the Solid Waste Management Technical Support Centre under the Ministry of Urban Development, Nepal. The municipality was honored with a cash prize and a Letter of Appreciation during a programme organised in Lalitpur to announce the Cleanest City 2014. Hetauda stood out to be the winner because of its integrated and sustainable waste management schemes, green growth promotion including recreation parks, massive level of people's participation in environment conservation and waste management activities and pilot initiatives for zero waste management!
The city was assessed by an evaluation committee according to these parameters: waste management (40 per cent), water supply and sewerage management (35 per cent), pollution control (five per cent), greenery promotion (10 per cent) and beautification (10 per cent). Hetauda municipality was declared the cleanest city of the country with 67 points, followed by Dharan with 62 points.
The city is an active member of the SUNYA – Towards zero waste in South Asia project; the efforts of the city representatives, the immense levels of community involvement of its citizens and the support from the SUNYA project team, considerably contributed to Hetauda being crowned as the cleanest city of Nepal 2014. The project, which encourages the adoption of the '3R' principle of waste management- reduce, reuse and recycle – and the importance of community engagement, aims at reducing the pressure on cities like Hetauda for the disposal of waste in landfills and provide them with sustainable alternatives of waste management through pilot demonstrations.
"Hetauda is proud to have won the award for 'the cleanest city of Nepal' and to be linked with the SUNYA project which has contributed a lot towards our city winning this award. The project has motivated us to start source segregation by color based bins (green bins for organic, blue bins for recyclable and red bins for chemical/hazardous waste materials and making our city adopt a more sustainable approach to waste", said a proud Pashupati Babu Puri, Executive Officer of the municipality.
To read more about Hetauda in the press, click here.
For further information about the SUNYA project, visit: