ICLEI Pledges to Support APUF's Penang Platform for Sustainable Urbanisation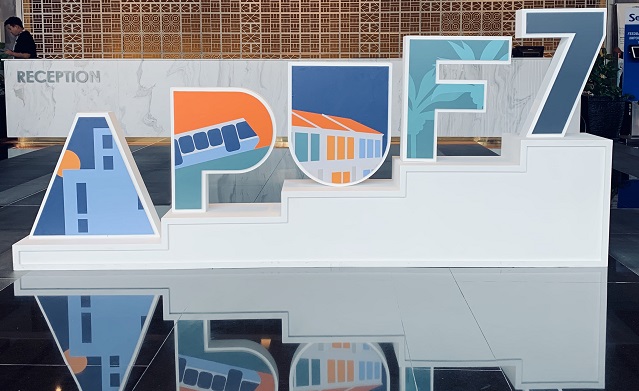 The seventh session of the Asia-Pacific Urban Forum (APUF-7) was held in Penang, Malaysia, in October to discuss the future of Asia & Pacific Cities: Transformative Pathways to Achieve the 2030 Agenda for Sustainable Development.
As one of the steering committee members of the APUF-7, ICLEI was involved in several events, besides becoming a founding member of the Penang Platform for Sustainable Urbanisation (PPSU), a new partnership of cities and urban development organisations that was set up at the forum. Watch video here
ICLEI also convened three innovation sessions, which were: 'Roundtable Discussion on IMT-GT's Sustainable Urban Development Framework (SUDF), Accelerating Implementation – Discussion with Potential Funders and Partners'; 'Unlocking finance and Investment for Implementation of Sustainable Urban Development Framework (SUDF) for Indonesia, Malaysia, and Thailand; and 'Innovative financial instruments for strengthening urban finance'.
A learning session on building efficiency and sustainable building practices titled "Advancing Energy Efficiency, Clean Energy and Energy Security in Local Urban Planning and Development" was also organised under the Building Efficiency Accelerator with partners including ICLEI, World Resources Institute, World Wide Fund for Nature, and the ASEAN SDGs Frontrunner Cities.
The session saw cities including Rajkot, India, Iskandar, Malaysia, Santa Rosa, Philippines, and Quezon City among others share how they are scaling up building efficiency commitment and activities. Rajkot city, which is a partner city to the BEA shared its efforts to introduce green building principles in affordable housing and to adopt energy efficiency solutions in its public buildings and within the Smart City area.
CITI Pathway
Representing the voice of local governments, ICLEI sent out a message to the international community on its commitment to pursue the PPSU's 'Collaborate, Integrate, Transform, Increase' (CITI) pathway. The PPSU aims to accelerate the implementation of sustainable city solutions in at least 10 cities; integrate the use of innovative tools, models, research and good practices on sustainable urban development; transform access to existing resources and forge new partnerships to mobilise catalytic funds for enhanced local-level solutions; and increase political will for sustainable urbanisation.
ICLEI welcomed the establishment of the PPSU, saying that it would deliver concrete support to developing cities in the region through several of its programmes. It also committed to engage with more than 100 cities till 2023, when the Penang Platform will take stock of its progress; to create and disseminate knowledge on all aspects of sustainable urbanisation; and to work with partner cities to implement tools and methodologies that will enable integrated action on low emission, nature-based, equitable, resilient and circular development.
SUDF Vision
At the Roundtable Discussion on 'IMT-GT's SUDF, Accelerating Implementation – Discussion with Potential Funders and Partners' – convened by ICLEI and the Centre for IMT-GT Sub region Cooperation (CIMT) – the participants agreed on the important role local governments and cities played in tackling climate change, and supported the mobilisation of technical and financial resources to accelerate the implementation of priority projects identified and included in the Sustainable Urban Development Framework for the IMTGT subregion.
Mr. Chow Kon Yeow, Chief Minister, Penang, chaired the meeting and spoke about Penang2030, the vision of his government that focuses on improving liveability, economy, civil participation and balanced development to achieve a "Family-focused, Green and Smart State".
The participants included Mr. Balamurugan Ratha Krishnan, Senior Officer, Ministry of Economic Affairs, Government of Malaysia, who was part of the drafting committee of the SUDF; Ms Mary Jane Ortega, former Mayor of San Fernando, La Union, Philippines and CityNet Special Advisor; Mr. Curt Garrigan, Chief, Sustainable Urban Development, United Nations ESCAP; Mr. Katsumata, IGES; Ms. Aditi Kapoor, Climate & Resilience Advisor, International Federation of Red Cross and Red Crescent Societies and Dr Shin Wei NG, Director, Global Policy Asia Sdn Bhd, Mr. Victorino Aquitania, Regionall Director, ICLEI Southeast Asia, Mr. Emani Kumar, Deputy Secretary General, ICLEI, and Executive Director, ICLEI South Asia, and others.
Urban Finance
CIMT in partnership with ICLEI, also organised the innovation session on 'Unlocking finance and investment for implementation of the SUDF for the IMT-GT,' supported by ICLEI South Asia and Green Growth Asia Foundation. Mr. Firdaus Dahlan, Director, CIMT, in his welcome address appreciated the support of all levels of governments in the IMT-GT for the SUDF, and called upon all CIMT members to fast-track the implementation of their priority measures to mitigate emissions and enhance adaptive capacity.
The ICLEI South Asia team presented a brief overview of the SUDF, adding that it offered an opportunity to mitigate 6 million tonnes of CO2e emissions by 2036 with an investment of USD 17 billion.
As the Secretariat of the Asia LEDS Partnership, ICLEI also convened a session on 'Innovative Financial Instruments for Strengthening Urban Finance.' It was organised by the Low Emission Development Strategies Global Partnership and Asia LEDS Partnership Secretariat to understand the challenges and opportunities for climate-resilient investment, especially in cities, and to learn best practices and innovative ideas.
Ms. Joan Manda, Climate Change Specialist, UNDP, said it was important to explore new financial instruments and strategies to strengthen urban finance, such as debt swaps, blended financing, impact bonds and crowd-source diaspora financing, besides climate funds, contingency recovery funds and Green Bonds. The ICLEI South Asia team spoke about technical assistance that was available under various Communities of Practice for national and local governments to design, promote, and/or implement low-emission development strategies in Asia.
Transport & Data Management
The Deep Dive discussion on Transportation and Mobility Infrastructure was conducted by ICLEI with support from UNESCAP and Centre for Liveable Cities, Ministry of National Development, Singapore. Moderated by Mr. Kumar, the session was attended by delegates from various sectors and included deliberations by representatives of UNESCAP and Safetipin, besides Malaysian Town Planning department and local government officials.
The key discussions highlighted the importance of a new environment-friendly model for developing cities that are without congestion, are inclusive, gender-sensitive and have better non-motorised transport and last-mile connectivity.
They focused on the need to adopt an Avoid, Shift and Improve model towards using low emission fuels, which is also well integrated with land-use planning; policies/ interventions that encourage cities to replicate at the local level; low-carbon mobility initiatives such as electric mobility; and measures such as those taken by Singapore, including congestion pricing and surcharge on new cars that are less environment-friendly.
ICLEI South Asia also participated in the Innovations Session on Spatial Data Management, co-hosted by the Centre for Urban & Regional Excellence (CURE) and Administrative Staff College of India, to discuss the challenges faced due to poor data management and collection in cities.
The session focused on the presentation made by CURE on their newly developed GIS-based tool, URBMAN, to help cities manage their sector-specific data and also discussed the PROMISE Tool developed by ICLEI South Asia, which was part of the panel.
Mr. Kumar was involved as a speaker and moderator in several sessions at the APUF, which included: 'SWITCH Asia SCP Facility Community of Interest on Sustainable Housing'; 'Urban Resilience Leaders Dialogue'; Deep Dive discussion – 'Transportation & Mobility Infrastructure'; Deep Dive Discussion – 'Applying new Blends of Finance for Sustainable City Development – Urban Finance Track'; and 'ICLEI Commitment to Penang Platform for Sustainable Urbanisation'.