ICLEI South Asia attends workshop to finalise operational roadmap for e-mobility in India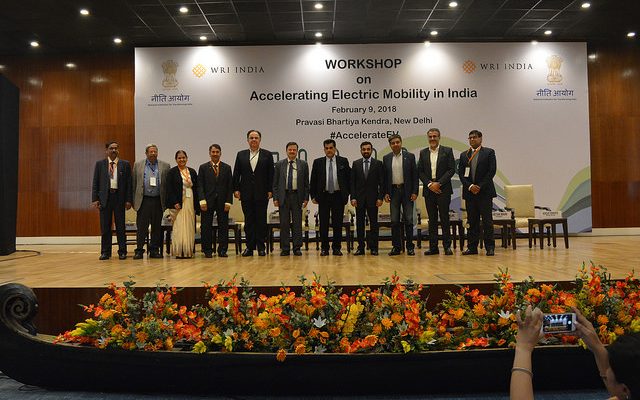 In response to growing concerns about air pollution, climate change and transport sector's dependence on polluting fossil fuels, many countries around the world have been trying for electrification of their transport fleet. India is also working in this direction. Given India's energy targets – 175 GW of renewables, and climate targets; 40% of power plants powered by non-fossil fuels, the Government of India recently announced its electric mobility vision 2030. It aspires for a nation with 100 per cent Electric Vehicles (EVs) by 2030. While the policy directions are clear, implementation requires coordinated actions by many stakeholders. Besides, this paradigm shift towards electric-mobility will need to overcome various barriers.
With the above background, NITI Aayog organized a day long workshop on the 9th of February under the guidance of Mr. Amitabh Kant, CEO, and MR. Rajiv Kumar, Vice Chairman NITI Aayog. ICLEI South Asia was invited by NITI Ayog to be part of brainstorm discussion on operational roadmap for accelerating the pace of shift towards electric mobility in India.
The discussion consisted six sub group – Evolving EV Scenarios in India – Designing the Way forward, Standards and interoperability for Charging infrastructure, State of preparedness of domestic manufacturing for EVs – Challenges and Opportunities, Technology Progress Driving EV – especially Battery Technology, Research and Development – Technology & Materials and Power Sector Reforms to Drive Electric Mobility.
Given the experience of assisting various cities (Municipal governments) on the area of electrification of its public transport and IPT sector, ICLEI South Asia briefed the sub-group with various ground level barriers on the aspects related to technology, regulations as well as financial viability.
ICLEI South Asia presented its observations, that the public transport and IPT sector provides the easiest opportunity to accelerate the shift towards electric mobility. Such initiatives will also increase the confidence of users to shift towards electric mobility. Currently, India has one of the highest percentages of public transport use in the world, averaging to almost 25% (excluding non-motorized transport) across major cities.
Additionally, the IPT sector dominated by three-wheelers, makes up 11% of the mode share. Auto rickshaws and electric rickshaws provide alternate mobility as well as first- and last-mile solutions in the cities depending upon average trip length. Therefore, any successful pilot to promote the electrification of the IPT sector will tend to have an overreaching replication impact throughout Indian Cities.