Swiss Transportation Experts visit Rajkot and Udaipur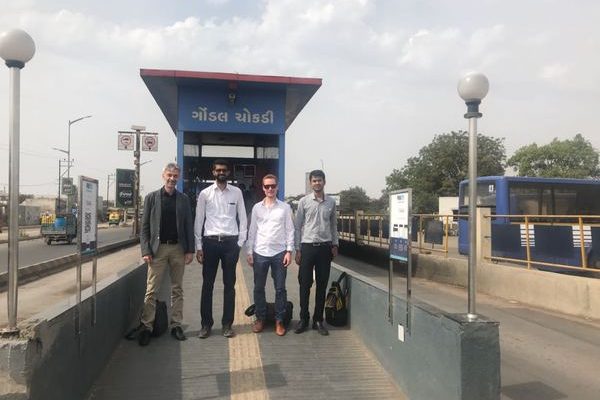 Mr. Martin Buck and Mr. Nicolas Muhlich, Swiss experts, from SNZ Engineer, Switzerland, Planner AG with National team members from SGA Architects Pvt. Ltd, and Mr. Vijay Saini, Senior Project Officer from ICLEI South Asia visited Rajkot on the 5th and 6th of February, 2018.
They conducted a pre-feasibility study of the last mile connectivity and electrification of the Bus Rapid Transport System (BRTS) corridor under CapaCITIES project which is supported by the Swiss Agency for Development and Cooperation.
The experts met with Mr. Arun Mahesh Babu, Deputy Municipal Commissioner and Mr. Rasik Raiyani, General Manager, Rajkot Rajpath Limited, Rajkot Municipal Commissioner to understand the existing on-ground situation and the BRTS operational issues.
The team also visited the BRTS corridor in the bus with Mr. Rushikesh Dangar from Rajkot Municipal Corporation. The tour was to review existing operational practices, infrastructure and condition of the corridor; and also the BRTS bus depot, which may be utilised for charging infrastructure.

Moreover, a workshop on the technical specifications of electric buses and electrification experiences from Switzerland and Europe was organised on the 6th of February, 2018. The experts explained the types of electric buses, charging infrastructure, success story of European cities, initial findings and feasibility for Rajkot in the workshop.

Officers from Rajkot Rajpath Limited, Rajkot Municipal Corporation, Rajkot Mass Transportation Services (RMTS) and BRTS bus operators also attended the workshop.
Moreover, the team (of national and international experts) along with Deputy Director, ICLEI South Asia, Mr. Ashish Rao-Ghorpade visited Udaipur, on the 7th and 8th of February, to meet various city stakeholders as a part of their second round of discussions and also to apprise them on status of action plan process.
The visit was also planned to cover views of city based contract and stage carriage unions to understand their understanding and views in adopting and/or shifting to more cleaner and greener technologies.
A meeting was also held in Delhi with Mr. Utpal Deka, national transport expert for Siliguri, regarding the technical pre-feasibility for a viable Mass Transport System for the city.