ICLEI South Asia Presents CapaCITIES Project at TIA Summit 2018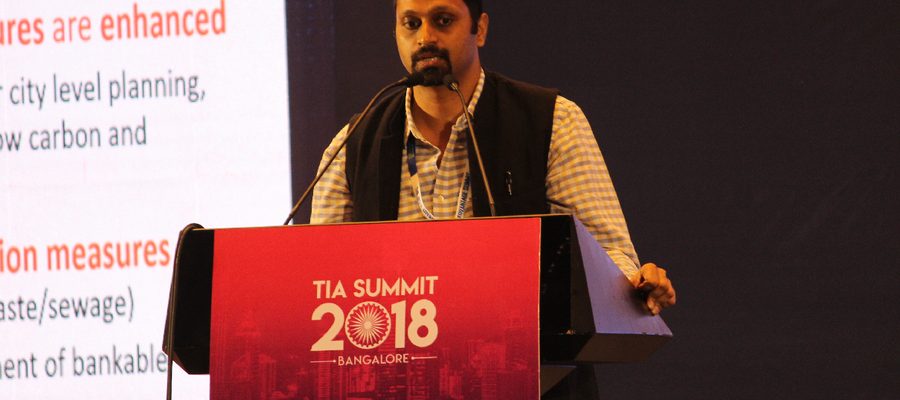 ICLEI South Asia participated at The India Advantage (TIA) Summit 2018 held on the 19th and 20th of July in Bengaluru. The Summit was a stimulating experience where global partnerships for innovation and the sustainable development of cities were explored.
In a session called NGOs and Institutions, Mr. Ashish Rao Ghorpade, Deputy Director of ICLEI South Asia, spoke on CapaCITIES: The Pathway Towards City Climate Resilient Development, which is a Swiss Agency for Development and Cooperation supported project. It is being implemented in four Indian cities namely Siliguri, Coimbatore, Udaipur and Rajkot.

The goal of the project is to strengthen the capacities of Indian cities to identify, plan and implement measures for achieving lower greenhouse gas emissions growth path and enhancing resilience to climate change in an integrated manner.
Mr. Ghorpade discussed the approach of developing climate action plans and identifying quick wins in the project cities.


The Summit brought together 300 delegates and representation from 12 countries, with participation from local governments, banks & investors, multinational technology firms, urban tech startups, research institutions and NGOs.
It showcased model smart cities: BTC city, Europe and the Gujarat International Finance Tec-city (GIFT). The two-day event featured over 35 speakers that included international experts giving a new and innovative view on how to create smarter cities and safer cities.
Leading multinationals like – BOSCH, Infosys and Subex offered diverse perspectives and key elements that can take Indian cities on an accelerated path towards sustainability.
Mr. Anand Narayanan, BD & Strategy Head of Smart Cities & Campus, Bosch provided a glimpse of their smart city offerings and asserted, "We are in the middle of creating a positive impact with a chance to leave a legacy behind for the future of smart and safe cities in India".
Moreover, TIA Summit 2018 continued to feature the most promising startups such as Ather, India's first intelligent electric scooter, and JK Nanosolutions, the low cost, nanotechnology based waste water treatment method, among others.
The Summit concluded with site visits to world class Experience Centers of Ather and Subex showcasing their innovative urban solutions.