ICLEI South Asia visits China for Sino-Indian collaboration on environmental technologies and industry exchange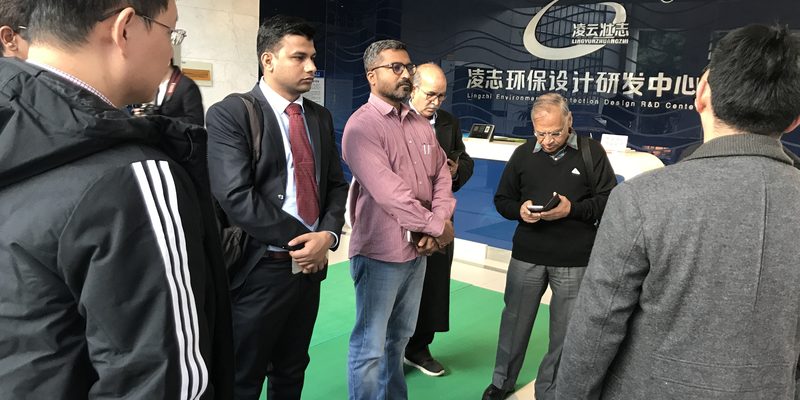 ICLEI South Asia along with the representatives from the The Confederation of Indian Industry (CII), The National Environmental Engineering Research Institute (NEERI), Infrastructure Leasing & Financial Services Limited (IL&LS), Paradigm Environmental Strategies Pvt. Ltd and Hon'ble Mayor of Gwalior City Vivek Narayan Shejwalkar visited China for Sino-Indian collaboration on environmental technologies and industry exchange between the 20th to 24th of November, 2017. The group was invited by the Foreign Economic Cooperation Office (FECO) and Ministry of Environmental Protection of China. The key highlights of the mission are as follows:
Delegations had detailed discussions with the Poten Environment Group Co. Ltd. Poten officials talked about the solutions of the industrial chain including detecting and monitoring, core equipment manufacturing, investment and operation, covering industry and energy, urban water, ecological restoration, and soil remediation.
Workshop on Sino-Indian environmental protection technology and industry exchange
Workshop was attended by over 30 environmental technologies experts and professionals of China, where they spoke about their technologies and how they intend to market it to India.
Meeting with China Environment Service Industry Association
A national large-scale industrial organisation, is formed under the approval of Ministry of Civil Affairs and officially approved by the State Council. It is responsible for All China Federation of Industry and Commerce and is guided by National Development and Reform Commission, Ministry of Environmental Protection. It is committed to promoting the development of environmental protection industry and the development of environmental services in China. Businesses include water supply, sewage disposal, water reclamation and reuse, seawater desalination, garbage disposal, solid industrial waste disposal, comprehensive utilisation of resources, air pollution control, gas desulfurisation and denitrification, environmental protection equipment and instruments, recycle economy, low-carbon economy and other areas. This association is willing to facilitate the cooperation and exchanges of both countries environmental technologies firms and enterprises.
Site visit to Qinghe No.2 water treatment plant
Designed according to similar plants in the US, the WWTP's membrane bioreactor (MBR) has a capacity of 80,000m³ per day. Primary treatment is conducted through gross screening and settling tanks, while the secondary treatment involves biological treatment and aeration tanks. The plant also makes use of microfiltration and reverse osmosis technology. The plant utilises MBR technology to treat the wastewater at higher standards. Secondary effluent coming out of the plant is treated by ZeeWeed membranes supplied by ZENON Membrane Solutions (a part of GE Water & Process Technologies). In addition to mechanical and biological treatment, the plant also performs sludge processing. Mechanical treatment, which consists of bar screens and an aerated grit chamber, treats all the incoming wastewater.
Visit to Yixing Industrial Park for Environmental Science and Technology
The park is a state-level High and New Technology Industrial Development Zone featured in the development of environmental protection industry. At present, enterprises from more than 20 countries and regions including Europe, America and Southeast Asia have entered and invested business into the park. Moreover, over 140 foreign enterprises have also settled.
Meeting with the administrative committee of China Yixing Industrial Park for Environmental Science and Technology and site visit to Gaoteng environmental enterprises: China Yixing Industrial Park For Environmental Science & Technology Development Corporation provided municipal infrastructure construction services. It also offered land development, housing construction, property management, and technical advisory services. The company was founded in 1992 and is based in Yixing, China.
Site visit to Everbright Environmental Energy (Changzhou) Ltd.
Environmental energy projects is a company for Everbright International Group. Major business areas include: Municipal solid waste incineration; Sale of electricity generated by waste incineration; Research development of waste treatment technology.
Site visit to Everbright Environmental Protection Technology and Equipment (Changzhou) Ltd.
It is an equipment manufacturing centre for Everbright International Group. Major business areas include: Self-developing and manufacturing household waste grate furnaces and automatic control systems; Developing, assembly and constructing flue gas purification systems and equipment; Designing and constructing household leachate treatment systems.
Site visit to Jiangsu WELLE Environmental Co. Ltd.
The company is a professional enterprise specialised in waste treatment and landfill leachate, and providing technology and total solutions to customers in terms of landfill leachate, kitchen garbage, kitchen and mixed waste, power generation from waste incineration, municipal sewage and sludge, biogas and bio-natural gas, flue gas purification, soil and water pollution remediation, VOC oil and gas recovery, energy saving and reducing with regard to water, gas, solid, multi-field technology and extra fields.