ICLEI welcomes COP commitments; but nations need to steer green growth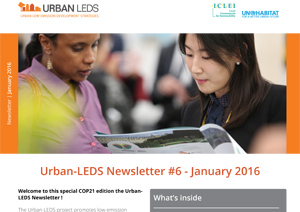 Though it has been almost a month since the Paris Agreement has been signed, nations are yet to provide an ambitious response to end a fossil-dependent era. It is unfortunate that despite the need for an unstoppable transformation into an urban development model based on 100 per cent renewables, nations have been reluctant to commit funds for the same.
ICLEI – Local Governments for Sustainability though welcomes the landmark commitments of 185 nations to curb the trajectory of current and future global greenhouse gas emissions, it also expects that nations urgently signal to industry and the private sector that the fossil fuel-dependent era is ending.
As the focal point of the Local Governments and Municipal Authorities (LGMA) Constituency to the UNFCCC for 25 years and the facilitator of the Local Government Climate Roadmap since 2007, ICLEI has successfully advanced the recognition of local and subnational action and asks for further support for their contributions to implementing the Agreement.
The non-profit also supports that least developed and developing countries must be entitled to peak their emissions within the context of shared but differentiated responsibility.
But as we celebrate this Agreement we also want to acknolwedge the numerous Urban-LEDS cities that have proudly represented local and subnational governments during key events of the COP21, at high-level segments, official side events as
well as in the Cities & Regions – TAP2015 Pavilion.
The urban-LEDS delegation at COP21 included the representatives at the mayoral level from Recife, Rio de Janeiro, Porto Alegre, Belo Horizonte (Brazil), Shimla (India), Bogor (Indonesia), Steve Tshwete (South Africa), Helsisnki (Finland), Copenhagen (Denmark), Warsaw (Poland), Bologna (Italy) and at staff level; Balikpapan (Indonesia), Fortaleza, Sorocaba and Curitiba (Brazil).
Click here to download the complete newsletter that gives more information on significance of COP21 process and its outcome for local and subnational governments