Urban Development Minister and Chief Minister of Andhra Pradesh launch HRIDAY scheme in Amaravati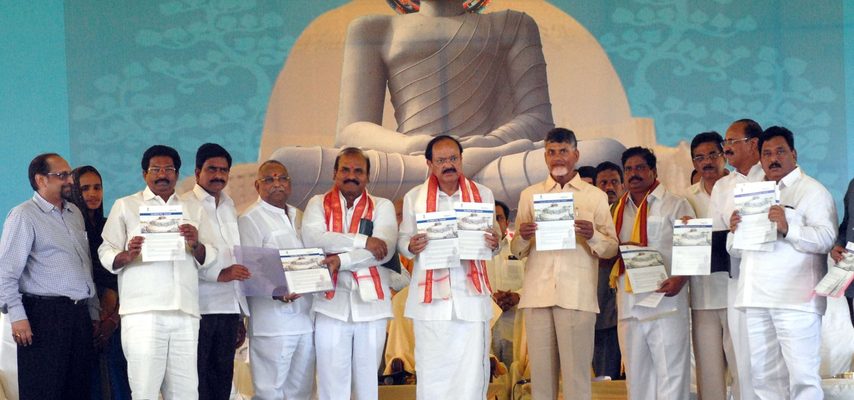 HRIDAY, Making of India's Heritage Cities…
Union Urban Development Minister M Venkaiah Naidu, along with Andhra Pradesh Chief Minister N Chandrababu Naidu, launched the projects under National Heritage City Development and Augmentation Yojana (HRIDAY) and Pilgrimage Rejuvenation and Spirituality Augmentation Drive (PRASAD), at Amaravati in Guntur district on December 5, 2015.
The projects include evaluation of current situation of tourism and urban infrastructure on parameters like accessibility, approach to road, signage and information, drinking water facility, lightning, public convenience, solid waste disposal, drainage system, among others.
While unveiling the brochures of HRIDAY scheme, the chief minister acknowledged the significance of proposed strategies under action plan and said, "The whole world is looking at Amaravati. This place will become a popular tourist destination."

The Rs 47.25-crore plan for Amaravati, prepared by ICLEI South Asia & Indian Heritage Cities Network Foundation (IHCNF), outlays Rs. 20.33 crore under HRIDAY while the remaining will come from PRASAD scheme.
The funds under this project will also be used to improve access to Dharanikota Fort, Amaravati Pond, Mahachaitya Stupa, Amaralingeswara Swamy Temple, Kalachakra Museum, Dhyanabuddha Statue and Zamindar Bungalow, along with development of Heritage Park, parking facility and a heritage walkway of 2.5 kilometres in town.
ICLEI South Asia, with its partners, is working as a city anchor for three cities – Amaravati, Ajmer and Badami. Their role as a city anchor includes planning, advising, and supporting the City Mission Directorate at the city level for successful implementation of the scheme.

Click here to download HRIDAY brochure for Amaravati